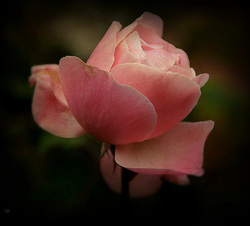 Throw roses into the abyss and say: Here is my thanks to the monster who didn't succeed in swallowing me alive
. Friedrich Nietzsche
Like many of us, Nietzsche was a soul modified by sorrow, physical pain including mental illness symptoms, and a sense of fundamental betrayal due to the shape of the blind and miserable world he found himself in, as well as his personal limitations.
Here is another translation of the quote that I also like: "Thou hast overcome thyself . . . cast roses into the abyss and speak: 'Here [are] my thanks to the beast, for the fact that it did not know how to devour me!' "
I do not know if Nietzsche found any peace by the conclusion of his life. If I had to guess, I think not, as his mind continued its descent into dementia.

I am reminded also of a Greek writer and thinker, Plotinus, who lived in the 200s, a couple of thousand years before Nietzsche--and us. He also lived a life of constant physical pain and died wracked with ungraceful disease. I am sure his pain and illness were his main tutor for the thoughts that came from him. "Life is the flight of the alone to the alone."

Nietzsche and Plotinus each wrote a lot about their perspectives. (And they would not particularly agree.) But what is similar is the aching need they seemed to have to make sense of our existence, especially in view of all the crazy that we seem to be immersed in as part of the condition of earth life.



Like them, each of us has likely often contemplated our exhausting bouts with 'the beast in the abyss'
and screamed, WHY??
Why.

Why are there thorns on a rose, so that a reach for beauty results in some bloodshed?



At this point in my life, I resist the urge to explain it all.

I, instead, have chosen to Be Here. I have chosen to breathe.

The pain walks by and gives its gifts. The joy walks by and gives its gifts.



Matt Kahn teaches that "Whatever arises . . . love that." Whatever is happening, whatever is with us, to say, "May I be loved more, not less."



I love Katy Perry's song, Wide Awake. Here are some of the lyrics.


I was in the dark
I was falling hard
With an open heart
How did I read the stars so wrong?
And now it's clear to me
That everything you see
Ain't always what it seems
Yeah, I was dreaming for so long
I wish I knew then
What I know now
Wouldn't dive in
Wouldn't bow down
Gravity hurts
You made it so sweet
'Til I woke up on
On the concrete

I'm wide awake
Not losing any sleep
I picked up every piece
And landed on my feet
I'm wide awake
Need nothing to complete myself, no
I'm wide awake
Yeah, I am born again
Out of the lion's den
I don't have to pretend
And it's too late
The story's over now, the end

I am trying to hold on
God knows that I tried
Seeing the bright side
I'm not blind anymore...


Sometimes--much of the time--life just hurts. You can't make sense of it.
But for every exhale, there follows an inhale. And for every inhale, there follows an exhale. It never ends. It is what it is.



And we can choose.
We can choose what we see and what story we tell.
Not all the time
.
Sometimes we are bound. Nelson Mandela was in a prison of man for 30 years. He was in a prison of men's minds and hearts. He chose what the meaning of that binding was to him. He chose hope and personal character. He became as free as he could within himself. But neither could he simply walk out of the bars and concrete.



When the world changed, and other men freed him externally, there was another Nelson Mandela that walked out than the one that had walked in. And we put that Nelson Mandela on a throne and made him our example.
He blessed us with his work and his presence for many more years until he died.
He threw roses into his abyss.
I am bound, too. And so are you. We don't get to choose when the beast comes calling.
We only find ourselves
still here
when the reprieve comes.
Maybe we are defeated. Maybe we are victorious.
Maybe it doesn't matter.
Come to think of it--why--WHY--are there towers of thorns that forget that pain and then, in the end, sing roses?