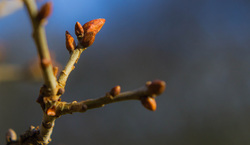 In my last post I shared how it is now easier and even fun to let go of things I don't need or want in my life, including things in my time that I don't want to be doing really. Now it seems like everything that even has the chance to enter my life gets a few seconds of an internal interview with my soul to see if it really belongs in my life. Is it toxic? Is it a priority? Do I have the time to devote to it? And so on. Some things are getting tossed even before they have a chance to get in! It's the first question I ask nowadays. I only want things here with me that belong with me. It is getting to the point where my boundary is much healthier and this assessment is automatic and even fun. It's fun because I feel the relief and clear feeling of integrity, and of freedom from having to carry something.

This approach began as I learned how to process the built-up clutter in my house, but it has spread to be a paradigm to every part of my life. And not even a paradigm, but a deep urge that can no longer be denied. (My freedom! I consented to my chains for so long!)

One very important area where I have been noticing this state has been that I now am thirsty for forgiveness: my forgiveness of others. Thirsty. Meaning, I can't wait.

A long time ago, I never forgave. I said I did if they asked and I never harmed the other person, but I kept the hurt or violation in a file cabinet in my heart. A List Of Things That Have Hurt Me. My body thought it was doing the right thing, I'm sure. But pretty soon one file cabinet became one hundred. Can you say 'constant pain'?

When I began to seek healing pro-actively, I was willing for the forgiveness process. But this took a long time and I hit a lot of potholes and resistance. Old feelings I thought I was releasing kept coming up again anyway. I tried to be gentle and patient with myself (and others) during this process. I thought there was no other way than this long way around.

I know exactly when this "toss it!" and "thirsty for forgiveness" came into my life. 2013 was an odd year for me. It turned out to be a pretty painful year for me. But it was also a gift and blessing year. It was all smooshed together (as it often is). In 2013, I had finally become a pretty aware person. I felt that I knew that I was one hundred percent responsible for myself including my internal state. I knew I needed to make my own choices and no excuses about what happened externally in the circumstances of my life and internally with my body, thoughts, and emotions. I was willing and I was committed to this decision.

So God decided I was ready for the last bells of the past to ring through. And wo boy did they. Let me tell you. Being completely (?) aware of what was happening and why did NOT ease the pain. It only gave me the patience and endurance to BE through it all.

At least four very important turning points happened. I hope I can share them without writing an entire book here in this post, ha ha.

The first was that my gallbladder had stones in it and otherwise began attacking severely. Horribly. Unless you've had it, you can't imagine. By the second half of the year, I was on the floor immobile with pain and constant nausea for most of the day and exhausted for the rest of the day if there happened to be some time without the pain. Or, really, a hot bath was the only thing that (barely) helped the situation. By the end I was in the bath three times a day. That bath became an interesting place. The veil became very thin. Since I was aware enough to know I had to be present with the pain and I was willing to do that, being present with THAT much physical pain takes you to another condition. I knew I was being helped by "unseen friends" in the very moments I was in pain (they were helping me process, whispering to me what was going on and why, and that I could do it, and also just sitting with me and pampering me like a baby while I cried etc). I was also spiritually processing my past. So when the physical pain arose, then came the energetic, emotional, and psychic pain of ALL my past. Images and memories and so much more that I thought were gone arose. What I came to understand is that I had stuffed it all (?) in my gallbladder (huge stones!). Again, it was horrible, horrible and it was daily. To add to the story, one reason I continued to suffer like this was because I don't value the medical paradigm very highly and I did NOT want surgery. I wanted to heal my gallbladder naturally and I did my best to take steps in that direction. I was sure I didn't want to lose any part of my body.

The second thing that was happening was at my job. I had reached the goal of getting my Bachelor's degree in 2011. That had been another huge turning point of my life. In 2012 I went back to work for the lawyer I had worked for before school. Let me start by saying that this gentleman that I work for, and his wife, are the most generous and supportive human beings on the planet. They did so much for me especially knowing I was a widow with six children. I will be forever grateful for them. I had come a long ways in coping with and some healing with my mental illness challenges, that I felt very proud to be finally working at a "regular" job in my life even though it was part time on purpose (partially because I knew my mental health would not permit more; and also to still be at home after school for my kids). My work environment was better than most people have it. I was able to work at my own pace and even my own hours as long as I accomplished my duties. Even as my gallbladder sickness increased, my boss was very understanding about when I couldn't make it in to work. In any case, as time went on however, there became several things about the job that I became increasingly aware as unacceptable to me. But it was difficult to acknowledge that because some other things were good and because of the whole "I have to have a paycheck so I have to be willing for some crap. That's what it means to be a good adult."

The third thing that happened is that I was volunteering as the Committee Chairperson in a local Cub Scout Pack. I had never had an experience before of being "in charge" of other adults (I am soo a loner; that's my comfort zone; I don't want to be under anyone or over anyone). Well, whatever I did, I messed it up. I can see now a little better what perhaps I should or could have done, but at the time I actually thought I was doing my best and doing great despite the whole Chairperson thing being a huge weight of responsibility at its best moments (I had accepted because my sons were Cub Scouts and they really had needed someone because the Pack had kind of petered out; and I *loved* working with the boys). I was blindsided to find out how angry the other leaders were at me. They were yelling at me. It was horrible, just horrible. I hate conflict. I had no conflict skills nor a healthy paradigm for conflict because I had effectively run away from it my whole life. We managed to navigate past a big blow up (after a long simmer period I had been oblivious to) with some third party help, actually, but even though it seemed 'solved' on the surface, I felt like the feelings and miscommunication and just all around malaise were all still there. Of course whatever was happening on the "outside" was small compared to how much I was beating myself up inside. Although, again, I had been trying to bring my new awareness to this situation. For example, that was why I asked for third party help. I acknowledged that I needed help and sought for it. I also decided that I would not yell back. I also tried to see the other women as God wanted me to see them. I tried to take as much responsibility for my mistakes as I could. So on and so forth. But it seemed that no matter how much inner work I could do, I was in high anxiety every day. The moment I woke up in the morning, the emotional nausea and fear and etc in connection with my Cub Scouting work hit me, stayed with me, and was with me when I went to sleep. I processed and processed but nothing seemed to stay processed for longer than ten minutes! I started to accept that this was not a little scraped-knee type of emotional situation for me, but that I was in major trauma. In some ways, only some time and distance was going to help.

I am sorry that this is a book, but I think I'm supposed to write this.

So the fourth thing that happened was a miracle. In March of 2013, a good friend of mine knowing that I was sick (with gallbladder) talked to me about cellular cleansing. In this case it was also in connection with a specific herbal product. I told her I was ready to listen to anything. I began the cleanse protocol and within just a few weeks I was a different person. I can't speak for anyone else, but that is what happened for me. It didn't heal my gallbladder but 95 percent of all the cluster of symptoms that are termed "mental illness" were released from me. It turns out that in my case these symptoms were due to toxins in my body and particularly at a cellular level. Everything I had been struggling under for over two decades lifted from me. It simply wasn't there anymore. I was a new person with new thoughts, new emotions, new choices, and new possibilities for life. I didn't have to force it to happen, it just was. I hadn't even known what I was missing. I didn't know some other people felt this kind of clear energy. Suddenly there was a possibility of my life being about something *other* than simply remaining somewhat functional hour-to-hour so that I could do the basics of being a mom.

So the ending of the first three stories goes like this.

I thought it was the right thing to do to pass through all the pain necessary with my gallbladder in order to heal. No matter how long it took. It was important to do it naturally and to submit to the suffering. But finally in September I was at my limit. I called the doctor. It took a while for scheduling and whatnot, so it was two months before I had the (outpatient) surgery. The next day after the surgery and since then I have felt wonderful. Pain free. I wondered why I had waited so long. Only my tight grip on my own ideas and my 'suffering paradigm' had necessitated this. Not only that, but my energetic past attached to my gallbladder was snipped out. Me and God said, No more. Just no. I don't know quite how I can put this across. Processing is great. But sometimes just a "no" is better. I don't have to hurt like that. I'm precious. (I acknowledge that not everyone has a choice whether or not to experience pain of physical or otherwise.)

My job ended in August (2013) because my boss was also moving on to bigger and better things and was closing down his solo practice. It was a good time because I was too sick anyway. We continued to discuss some possible ways I could work from home for him with some smaller tasks that still needed to be done. But because of the experience with the gallbladder I was starting to look at the situation in a new way. I realized I was getting ready to bring what was unacceptable at the job farther into my life. So eventually I had a phone conversation with my boss and just said no. Earlier in my life I would not have been able to be that honest. At that point, although it was uncomfortable I was also racing to do it because I could feel the power of the No. Just snip it out like gallbladder surgery. No. I didn't know what was going to happen next (financially) but No.

I got an email from a blast-from-the-past-in-a-very-bad-way person. His tone was very pleasant. He wanted to reconnect. In the past, as a nice person I thought I was, I would have replied even if declining, mainly for the purpose of not hurting the other person's feelings and also just to maintain my idea of myself as a nice person willing to deal with where other people are at. Meaning, I would have suffered a little. But I stared and stared at that email and the only thing I could think of was that I just didn't want him in my life. Not even a little bit. Not even a toe-hold. It was a little "funny" too because I was aware that this was part of the psychic shit happening in connection with my gallbladder, because like I said that had been a huge energetic nest of the past in there, and disturbing it internally was also causing some external "showing up" (manifesting) stuff. It was just really odd other than that explanation as to why this person reached out. I even let the email rest a couple of days to make sure I wasn't overreacting but when I came back to it I felt the same. No. Just NO. I never replied.

The Cub Scout situation lasted a little bit longer. I really wanted to fulfill my duties. I really loved the boys. I really didn't want a personality conflict to defeat me. I wanted to grow in the situation and come out better. I wanted to get past it. I wanted to experience gratitude and just deal and enjoy. All the stuff I thought I was supposed to do and that made sense and seemed like righteousness. But finally in February 2014, still with my gallbladder lesson in mind, I called my supervisor. "I am sorry. I can't live like this. I wake up every morning feeling sick about this work and the ongoing situation. Every. single. day. Please find someone else to replace me." (It was May 2014 before they did and I could leave.) The truth was: I'm not going to live like this. I won't. Maybe there had been another way and I just hadn't been smart enough or strong enough to figure it out. But what I do know is that I chose to value myself, enough not to force myself to go through that experience anymore. It was okay to step back. To release. NO.

What I got from all these 2013 experiences is that processing is great. We are always going to need those skills and sometimes to be willing.

But on the other hand, the universe, God is not asking you or requiring you to hurt yourself. Sometimes you don't know the way out. Or you think you don't know the way out. So that's one thing. But sometimes our processing and suffering and continuing is just because we want to keep holding on to the way we are familiar. When we could free ourselves close to instantly. (A Yes or a NO.)

The NO's are what got me to the place where after I no longer was devoted to the Pack, no longer had a traditional job, and had finally physically, emotionally, and psychically recovered from the sickness and the past, and was clear at the cellular level from 95 percent of my mental illness (because of a Yes to my friend), that I was able to sit down with myself (in May of 2014) and choose what I was actually going to spend my body and time on (in addition to the mom gig). And that turned out to be . . . How To Move the Universe. You. Ha ha.

So this is the long way around to the idea of forgiveness that I started the post with. When it comes to toxic people, I can process a lengthy, wisdom-giving forgiveness (if I want or need to).

But these days I am feeling more like, "Ain't nobody got time for that!" I'm in my 40s now. I'm ready for my second childhood, or in my case my first since my original one was somewhat of a wash. I don't have time to feel hurt. I want to get to the relief, the freedom as quick as possible. "Bless you," is about all I say to people, internally or sometimes out loud when appropriate. I barely feel hurt, depending on what it is. I'm still human, and I still am peeling back some layers from the past. So if I don't feel hurt, what is there to forgive? I'm just so thirsty for that freedom and relief. Do I have time to be energetically bound to a person providing pain, toxicity, negativity? I surely don't. I'm precious.

I wish for you to love the NO and to Toss it! and to be thirsty for forgiveness and to release yourself, stop requiring yourself, to experience certain sufferings in your life. They may not all be that easy, but you might be surprised as to which of them might be that easy if you would just move your paradigm lens to a little bit different way of looking at it.

Be free. You're precious.