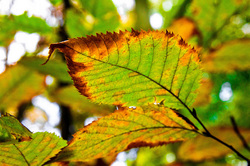 Yesterday was the first winter wind of the season.

It wasn't cold. Not that.

But it was just the way the air tasted and the way the tendrils of storm mauled the branches.

There is always a tiny switch from the summer to the fall, and yesterday was it.

I always get a little nervous. Winter is not my favorite, even though where I live, winter is usually relatively mild. And there will be a month or more before the true cold hits.

But it's a time of reflection. What did I really do this year? Summer represents work and preparation and joy. Fall and winter have a quieter joy. It's the time of the harvest, when you receive the fruits of whatever was the labor of summer.

So I'm wondering what I will be enjoying this season as it becomes fall and holiday.

It's been a tough year. It's been a tough life.

But peace has managed to seep into September. I don't ever remember feeling this good, this grounded, this clear. I give thanks.

It's not a time to rest. In fact, it's time for more work from me. But what I have is a deep sense of purpose in that work, and that is very energizing.

And I have chosen to breathe.

When my fears and angers and crazy come, I breathe. "Hello," I say. I hug them like a child. "It's okay. I know it hurts. I love you."

It doesn't mean things are perfect. Far from it.

There was the day a couple of weeks ago where I went out to the car and saw that it had a flat tire. Annoying. In the past I would have been overwhelmed by this. Crisis. Instead, I breathed. What is a step I can take to solve this? I also allowed myself to get help--my son (age 15) and my brother-in-law, in this case.

And the super cute guy at the shop that fixed my tire and had a conversation with us. I could have missed that. Ha ha. Bless the flat tire.

Yesterday morning, when I was sitting in my yoga and doing my breathing outside in the dark, starry morning, the neighbor kitties game to visit me. They started crawling on me and doing that cat rub and purr. I couldn't concentrate. But I couldn't get mad. I could only giggle and be in joy for little warm bodies. I love animals and I don't get enough of that in my life, so I was deeply grateful that they graced me with their presence. I took it as a mini-miracle.

This week it seems my teenage son has been gone more than home. I hunger for some rhythm and home life and to surround him and his younger brother with it. He wants to be out and about. I do get it. I do. But how much is too much? Do I need to say 'no' and draw him home? Or just let him go and see what he figures out himself? My fifth child and I still don't know the answers.

So life, eh?

Yea.

Life . . . and the winter wind. I anticipate learning what the quiet joy this season will be.