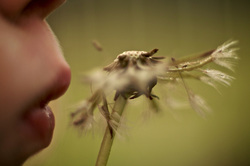 There was once a young person who asked a Master how it was that he could experience a peaceful, joyful life. The Master answered, "Give away all your possessions."
When we desire to change or heal, we often think about the more that we need. Something more to do. Something more to be. We try to add in stuff to our lives and our being. More herbal tea. More yoga. More acupuncture. More positive thinking. More time management. More salad.

There is a theory that says that we already are everything we hope for.

And to change we need to uncover all the weight, all the toxicity, all the lies (stories) we tell ourselves, all the pain and sorrow, all the habits, all the objects, all the memories, all the limiting beliefs--all the things we hold on to---all of our possessions--everything we are not--and

let

it

go

Let it all go. Give it all away.



And let the innocent, precious you emerge.

I have been thinking about the subject of this blog post for several days. I think it is my personal next step, to think more in terms of what I can let go instead of what I can add in. I found it lovely, then, to just yesterday come across a podcast by Bruce Van Horn who talks about this exact thing--emergence. I loved what he had to say so much, I'm even going to share the link and hope that you take the time to listen to it. Life is a Marathon Episode 178 From Emergency to Emergence

As you reflect on your possessions, and come to identify what you could give away, quite often we feel a benefit to keeping it and have an idea of the loss we would have if it wasn't there. But spend some quiet moments and just ask yourself, "Who would I be without it? Yes, there might be a bad or uncomfortable feeling if it leaves, but also what would be the good thing left in its place?" If it left, what would there be room for?

Honestly, you might not know. You may have been so long holding on to the possession. The gift, the freedom, that is waiting might be beyond our imagination. But do try to ask yourself. Just get an image of 'the good thing' that will have room if you give away a particular 'possession'.

If I gave away my sense that the world is unsafe, what would there be room for?

If I gave away my sense of my worthlessness, what would be revealed in its stead?

If I gave away my need to prove myself right, what would emerge?

You don't need to make yourself feel safe or worthy. That is adding in. Instead, let go of your sense of unsafeness and your sense of unworthiness. See the difference? When you let go, again, you might not know what will happen next, but you know you don't have to hold tight onto what you are carrying. The weight leaves. Something else can arise from deep within you.

My blessing for you today is that you become willing to give away all your possessions and thus become truly alive.