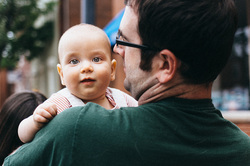 When we are infants, we are placed in our parents hands. We are new. We experience in the raw with very few reference points about the meaning of that experience. We simply feel purely in the body--our hunger, being held, our discomfort, our satiation at being fed. As an infant, we don't have ideas about our experience. We simply live it.
That state of things doesn't last long. One parents transmit to us, and induct us into, the family paradigm. As we continue to grow, the cultural paradigm is also transmitted and we are inducted into it. (Please keep in mind that family and cultural--indeed any--paradigm is not static and monolothic. It is fluid and myriad. However, in a post like this, it's difficult to address that full reality of pervasive paradigm, so I speak of it as a 'thing'.)

When we are being initiated into the paradigm, it becomes "necessary" to edit the pure self in order for it to fit into the paradigm. Parts of the self must be closed, locked, chopped off, ignored, shamed, and so forth. Again, this is called editing. Our parents begin to edit us from a very young age. Once we get the hang of editing, we can do it very well by ourselves. We are presented with a set of world/life circumstances that have arisen from the local dominant cultural paradigm (i.e. perhaps university, perhaps a neighborhood of housewives), and we edit ourselves to conform. As a child in our family paradigm, editing can be a matter of survival. Our pure self may not receive the love it needs. The edited self will be loved and accepted by the parents.

It's an endless subject. I can only touch on it.

But as you are now an adult reading this, perhaps it is time to reflect upon the edits that have been made to you and that you have done to yourself. Make no mistake, you are an edited self. I'm not sure it's possible to become completely unedited again ( . . . as a little child . . .).

But perhaps in your self-examination, you may notice a few edits that are particularly not serving you in your present life. That are serious violations of the self. That are your prison, your pain, your sorrow.



Paradigm is neutral. There can be oppressive paradigms. There can be freeing, life-giving paradigms. And everything in between. Also
keep in mind that while there was a family paradigm you came from, and cultural paradigms you came from and are currently situated in, it is also the case that each human being has a paradigm unique to themselves based on their individual experiences and engagement with larger paradigms.
Your paradigm is your responsibility.


As you become aware of edits that are blocking your purer self, ask yourself what paradigm was this edit for? Is it even a paradigm you hold any more? Are you still in a survival situation that requires that edit?

If you would like to undo an edit and let that part of you shine more purely, you can create or affirm a life-giving belief (=paradigm piece) that will make the space for that (part of the) self. (Paradigm will not create the self--you are all already there. But paradigm can edit expression, or make room for the self to express into the world.) And then make a new choice, even a tiny one, that gives you a new experience, even a tiny one. An experience for that self.

Paint, dance, laugh, tell the truth, touch, run, cry, explore, sleep, scream, taste, breathe. Receive and express. These are the experiences of the unedited self.