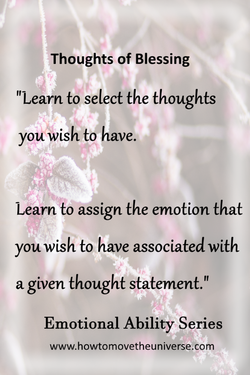 "I am soooooo blessed."
I've been saying that a lot lately. Thinking it.

When the thought comes, a warm nectar of security moves from the top of my head down to the tip of my toes. Everything is all right.

It's relatively new that I became willing and took the practice of thinking that. A year at most. Like most new thoughts, I wasn't convinced by it at first. But I remained open and let it in. And now my body likes this thought so much, it introduces it several times a day. Getting addicted even, ha ha.

I lay down at night to it. I wake up in the morning to it. I'm very blessed. It doesn't mean my life is perfect. I still have challenges, even some I have no idea how to handle. But I am equally or more so also surrounded by gifts, supports, helpers, delights.

= = = = = = = = =

I want to share with you today how thoughts and emotions are connected. (This is part of the Emotional Ability Series.)

When you think a thought, there is a corresponding emotion. Try it. Is there any thought that doesn't also have a feeling or contribute to a given experience state of your body, mind, life?

Not all emotions have thoughts, but all thoughts induce emotions and/or states.



The good news

is that your thoughts do not know anything independently. Your thoughts cannot tell you the truth. Thoughts can only 'speak' what they were instructed to offer. And the programming and directing 'thought offerings' is from our own responsible selves. Thoughts are infinitely malleable--by us. Me.

When you traverse the journey toward emotional ability, it will necessarily include an increasing ability in thought as well.

Learn to select the thoughts you wish to have. Learn to assign the emotion and state that you wish to have associated with a given thought statement.

Then practice.

Be patient. Don't condemn yourself for 'out of order' thoughts. (Never condemn yourself for any reason, ok?) Simply let your thoughts flow--in (hello) and out (good-bye!). Find and hear the thoughts you choose and nourish them over time.

If your thoughts are particularly challenging to you, then look for a thought teacher. Because I don't want to say that changing and elevating your thoughts is just 'do it' easy and simple. Your thought life might be hard and complex for you. It kind of is for me. Baby steps.

Teach your thoughts that they have emotional options. You may want to sit silently and induce a given state even for a few seconds so that your body knows what you mean (if it hasn't felt that way a lot and is not familiar). Then as you feel the emotion, give it a lovely thought statement that you like. I'm very, very blessed.

By the way, you don't always have to be cheerful or be in a constant state of 'positive thinking'. But when you feel sad (for example), select the thoughts you want to experience in connection with your sadness. (You aren't required to allow past thought modeling and training to bind you in the present.) I used to try to repress sadness and act like it wasn't happening. I thought my religion necessitated this. That if I had faith and gratitude, et cetera, then I wouldn't be feeling sad. I would think, "How can get happy and out of this sadness?" with a side order of, "You got it all wrong, Jenn. You messed up. Because if you hadn't, you'd be happy right now."

I recently replaced all that. Why? Because I wanted to. I wanted to think something else, and I want to feel sad when I need to. Now when I feel sad, I let it all come through and feel it all. I cry.
(Kinda having a whole week like that right now . . .
I'm so blessed
.
My sadness blesses me.
) And my
thought
that I have now associated with sadness is, "There, there, honey. That's right. It
is
sad. I'm here." (I'll let you use this one, too, if you like it.)
That's just one example, using sadness. What about your anger, your excitement, your fear, and more? Have you proactively designed the thoughts you will think in connection with these? What emotions aren't you feeling as much as you'd like, and what thoughts could you install to make those emotions more likely, make room for them? What emotions would you rather not be overwhelmed by, and is there a thought selection that can help ease that?


I invite you to share in the comments. What new thought would you like to have and what emotion do you choose to associate it with?