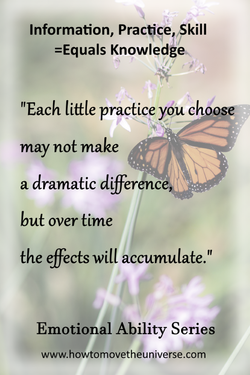 If you have chosen to take up your emotional healing journey, let me assume that at this point (based on my previous blog posts in the series) that you are open and aware, are in a state of willingness, and are willing to have a little courage.
It's time, then, to get some information. It's important to go forward on any new life project on the basis of good information.

So if you are serious about emotional healing, do some research. For any project, the way I like to do research especially if I am embarking on something brand new, is to do an immersion period where I just dive into massive amounts of information. I take notes, but I don't make decisions or act on any of the information yet (unless something jumps out clearly). It is a gathering time, and I let information sink in by osmosis, ha ha.

Learn about your body and how it produces emotions. Learn about the part hormones and the nervous system plays. Learn about the nutrients needed for those body systems to run at optimum. Learn about emotional vocabulary, options, triggers.

Find some teachers who have some wisdom, knowledge, experience, and methods to share. I offer myself as one, of course, but there are many amazing emotional teachers and healers out there (not to mention awesome licensed therapists). Seek someone for guidance and support. Emotional healing is not something you need to do on your own. You deserve to be supported and surrounded with a safe space and safe, knowledgeable people.

After a research immersion period, it is time to choose your first practice. Out of all the things you learned so far, hopefully some piece of information or instruction will have resonated with you. Probably more than one, but choose something small and simple. (Or perhaps if you are participating in a larger program by a teacher, begin the first step they offer.)

A practice does not have to be something large, and in fact, for your first practice, it is best if it is a baby step. In this case, you would be choosing an emotional healing practice.

A first practice for emotional healing might be beginning each day with a simple breathing exercise to help ground and calm you. Or it might be to journal whenever you feel emotional distress--get that all out on paper. Or it might even be a simple thought reminder when you feel emotional overwhelm, to say to yourself, "I have options." It might be to give yourself a hug whenever you feel sad or lonely or upset.

Give yourself at least a week to get used to the practice. Longer is okay. Don't expect perfection. Just keep at it as best as you can.

After a week or so, you can add in another simple emotional healing or emotional responsibility practice. And onward over time. Each little practice you choose may not make a dramatic difference, but over time the effects will accumulate. And you will have a toolkit of options to help you heal and be pro-active about your emotional experience in life. You will become skilled. And eventually knowledge and wisdom will settle into your body from the experiences you have lived through as you struggled toward more wholeness.