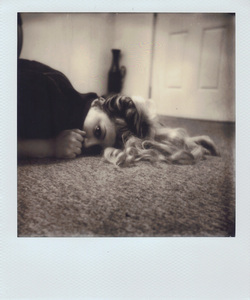 In Part 1, I spoke about my childhood. I'd like to state here that even though (like most of you) my childhood was rather challenging and I made some survival decisions and had some psychological consequences, I don't actually attribute my mental illnesses to these factors. I will explain why in Part 3.
To continue with my story and lay out the "eras" of my life, after I graduated high school there was somewhat of a transition period. That summer, I was rather lost. I wasn't able to attend college in the fall, and I really didn't have explicit direction from my parents about what they expected me to do (not that it was their job to do so). I knew my (step)father valued having a job, so I got one. It was at the local sandwich shop, so it wasn't exactly the fast track. I had big dreams (like joining the Peace Corps), but I didn't know how to take one concrete step toward anything. While I had big dreams, I had also not thought much beyond high school in terms of reality. I had felt like high school was going to last forever.

My grandfather suddenly died of a heart attack. My dad and uncle felt like I would be a good companion to my grandmother, who was quickly descending into Alzheimer's. So I moved to Arizona and into my grandmother's house. That was September 1989. To keep a long story short, I met my husband in February 1990, became engaged in March 1990, and our wedding was in June 1990.

Getting married was what made the most sense to me, life-step wise. I had been taught religiously and culturally that that was what I needed to do. To me, getting married was not a heart and body thing, it was totally left-brained. "That's what you do." It was also the only thing I remotely felt capable of concretely doing, sort of "checking off the box". I did not care about falling in love, because of two reasons. One, I can fall in love really easily and I had been in love hundreds of times (as I understood it then) and I couldn't marry everybody! And two, in the marriages I had witnessed, I had seen that falling in love ended badly. It was not a good deal. I hoped to "grow love" within the marriage with a like minded gentleman. And I was really hoping to get a man who would not beat me and who went to the same church as I did. Oddly enough, I had been certain my entire teenage years that I would either not get married or would only after a long, hard struggle while I did other things (Peace Corps) because I thought I would never be chosen by a man because I knew I was ugly. That was the extent of my marriage theory at the time. So when my husband made an offer, it was out of timing on my life-on-paper. But I felt, due to the ugliness issue, that I couldn't afford to turn it down because an offer might not come again. It's odd to remember the ugly thing, because while I still struggle with that, I now can see beauty as well and I also know that it is a perception and energetic issue on my part. But back then, it was almost a neutral rather than a negative, because I experienced my ugliness as a fact (and it remained a "fact" until my late 30s when I had my eyes opened by certain experiences). I was ugly, and life would have to be dealt with that way.

So with my marriage in June of 1990, my adult life began and the next era which I call The Abyss. The Abyss lasted at least until the end of my 20s and somewhat into my 30s. Did it start right at the beginning of marriage? Yes, that week of the wedding. That month.

But I do want to mention a couple of, hm, sub-eras? To begin with, at least until 1996, I was completely Unaware. At some point, perhaps as early as late 1996 although there is no way for me to remember the exact day, a little light bulb went on in my head that said "Something is really wrong." And yes, it was in one moment, on one day, and as soon as it was suggested to me in my mind (from where?), I felt like, "Ohhhhhhhhh . . . .!" And that was the beginning, at least, of my Awareness. I'll talk about that more in Part 3.

So backing up again to the Unaware part. I had my first baby 10 months after my wedding (1991). I had babies in 1992, 1994, and December of 1996. So I had four children while completely Unaware of my mental illness but in full-blown symptoms.

And I was not surrounded by anyone who was prepared to be aware for me, either. Yes, my father had severe mental health issues. But he shielded those from us. He was the divorced father living away from us and I was just a kid stuck on my own life. My father's funeral from his suicide, and when I learned the full extent of his struggle, was in September 1994 (I was 23 pregnant with baby 3). Before then, I really didn't know about him. I saw him be homeless, jobless, relationshipless but I didn't know how to assign that to anything but just a tough life. And my father didn't know about me, I didn't live anywhere near him geographically while I was starting my married and motherhood life. And even though he himself had mental illness, he also struggled with the same paradigm I'm going to describe, that it was an anomaly that he should be able to handle by just "choosing". (In fact, part of the reason he killed himself was because he chose to go off his medications that weekend because he still had a paradigm and a dream that said he should be able to handle his own mind without medications. That was the goal. The mental illness was always going to be a temporary anomaly. So he went off the meds and his mind told him to kill himself. Hmm . . .)

No one in my family culture had room for mental illness. None of us had gotten to that awareness. It wasn't a real thing. Life was to be approached by choosing the right and repenting and if you had a problem, pray. Change your attitude. Cheer up. Work harder. Get more sleep. Be more patient. The Lord will help you. Medication was for weak people (I had been taught to not take aspirin for headaches etc; we were very herbal and suspicious of the medical establishment). I also believed that a person should have dreams and goals, and they would come true soon enough if you just did them. Not to mention, that I thought mental illness was a 1-in-10,000 sort of thing instead of the epidemic it is today where everyone either is experiencing it or knows someone who does; and I didn't imagine I would be that 1 (I had no awareness of the genetic inheritance aspect).



My husband also had his own issues which were based on brain injury. Thus, he was not in a condition to pay attention to me nor to have the strength or awareness to help me. He did not have mental illness in the same way I did, but he was also unable to function due to out-of-his-control mental, emotional, and body issues.



My symptoms: House cleaning issues to the point of (among other things) hoarding. Personal hygiene issues of which I am still too embarrassed to really tell you about in detail. Rage (including blackouts). Internal "hallucinations", mainly what I call "demons scratching" inside of my body, and talking like an ocean--like the Legion mentioned in the New Testament. Disassociation including multiple personality creation, although I consider that a functional rather than a dysfunctional aspect. Catastrophic levels of brutal self-talk. Manic and depressive episodes (each lasted for a few days; I "swung" like clockwork; but when I was manic I couldn't remember the depressive and when I was depressive I couldn't remember the manic. I thought life had "always" been like the episode I was in. The only way I eventually figured it out was reading my journal and reading the lives of two different people). Anxiety, which is not "nervousness" (just as depression isn't sadness) but includes a whole bunch of lies broadcasting to you about choice-making and some OCD about what actions you can and cannot take or absolutely must take (like counting to a certain number before doing something else, etc). Fatigue and "crashing" (by early in the day). Inability of my body to move. And I mean that in the most literal sense. I remember when I was pregnant with baby number 4--so this was 1996--I sat in my chair all day long and thought about what I wanted and needed to do, but I could not get up. The kids pretty much played outside or watched tv all day long, so I did keep an eye on them. I fed them. Another symptom was introducing physical pain to my system (and which I processed as pleasure or at least righteousness). For example, I never wore a shoe for years. I remember the day when I chose to allow myself to have socks and tennis shoes for winter (much later, not during this time period). It was a big thing. But for years I wore open sandals. Even during the winter. I had a relationship with the pain in my feet and I think I was at least partly trying to recreate or maintain my childhood trauma which as I mentioned last time included freezing, mainly my feet.

These symptoms led to other problems as you might imagine. "My heart hurts," I would say a lot. The emotional heart pain was constant and endless and seamed through all my bones--"bleeding" and "crying". I also had numbness, and I was stoning myself (addiction) in order to get numb (not with drugs or alcohol but every other way possible). I was also trying to kill myself in what I call the slow kill. I had made a decision in my life to never do suicide because of how it felt when my father did, and I didn't want to do that to my kids. But that didn't stop me from unconsciously trying to constantly annihilate myself. And, to top it all off, all of the other struggles were lived against a background of deep financial poverty.



Have you ever heard that gorgeous cover that Johnny Cash did of the Nine Inch Nails song, "Hurt"? I understand perfectly and lived every lyric of that song. If you get the song, then yea. If you don't get the song, I hope you never do.



Because I was in this condition and had no framework for calling it mental illness, I was soaked in massive amounts of (among other things) guilt, shame, self-hatred, revulsion, emotional pain, overwhelm, and a weight of a thousand elephants on my shoulders, back, heart, and in my stomach. And further, you can imagine what our family life was like, the chaos. And I was always trying to hide from others, although especially my house cleaning and personal hygiene were plain to everyone, I'm sure.

I wasn't unaware that there were massive problems. I lived them every day. But I had this belief that *today* was the day I was going to get my act together and get things in gear. Things were going to change. I could change. I could fix it. I would do it differently and meet my goals. I believed that my issues were laziness, lack of patience, bad mothering, negative thinking, and things like this. Things that I could choose and pray away. I just had to keep "trying". I would improve!

By the way, even though I have healed a great deal, I have not been cured. These are still my issues and as far as I know they always will be. I have healed enough that the symptoms do not present constantly as they used to, or to as great a degree. But there are times when they still present. I have to "deal" all the time. (Don't we all?)

This is enough for Part 2. Next time I will begin at the time I had a spark of my first awareness.