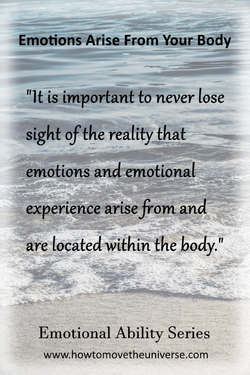 In seeking emotional ability, it is important to never lose sight of the reality that emotions and emotional experience arise from and are located within the body. Our body (which is a structure of energy) generates our (life) experience.
So if you desire emotional ability, begin by preparing your body.

The first principle I teach in the Body Recovery Library is that your intelligent body will not allow you to act beyond the fuel it has available. This also applies specifically to emotions (which are acts). (An act is any application upon and/or with energy.)

In order to have emotional ability, there must be enough fuel in order to generate emotions. There must be requirements met for the manufacture of emotions. Emotions are body chemicals.

For example, if you wish to experience a basic sense of happiness--do you have enough fuel to do that (i.e. eating massive, quality food)? Have you provided your body with magnesium and B vitamins, which are necessary for this sensation?

Another important body preparation is to teach or allow your body to be in a state of presence and rest. Part of presence and rest is to heal your adrenal glands.

Another important body preparation is to love, pay attention to, nourish, and detox your liver (which governs the body). A toxic or otherwise unhealed liver contributes to emotional states such as chronic anger and chronic confusion (indecisiveness).



And how about sleep? Yes. I'm a different emotional person when I've had enough sleep than when I'm deprived.



It's important to understand emotions as mainly a body energy consideration, rather than one of personal character. Personal character is essential as well, but often it cannot overcome body energy deficiencies when it comes to emotional experience.

Begin with your body.


I invite you to share in the comments. Have you noticed any time when you have done some self care for your body that has changed the way you feel emotionally?