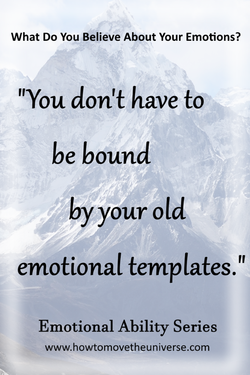 Beliefs are programs. They are energetic installations in our body (mind-body) that hold instructions for the unfolding of our life, our experience. Our thoughts, emotions, behavior, manifestations, and more all operate and arise from the beliefs that we hold. Indeed, we are constructed from beliefs, because there is no portion of our body that is program-less. Our experience is a direct result of our beliefs (i.e. our experience is programmed).
Paradigm is core or fundamental beliefs that describe the world and cosmos we live in, our view of ourselves, and our view of other human beings.

Our beliefs provide us with instructions and template for our emotional behavior and experience.

For example, we have some 'if-then' beliefs. "If [THIS] happens, then [THIS] emotion arises." 'If-then' is about stimulus, or triggers. Emotions arise in response to stimulus or triggers (the 'if [THIS]'). Given emotions arise in response to given triggers due to how we were trained or had modeled to us our emotional options.

When I was a teenager and looked forward to being a mother, I imagined how I would act if one of my children dropped and broke a plate. I imagined I would be patient and comfort them and help them realize it was no problem. When I became a young mother, this is not what happened. I was a very angry young mother (due to a variety of factors). When my children dropped things, my reaction was horrible. So my belief was not the first--that was just my wish or opinion. My belief is what I was actually operating from.

In my case, the anger situation was complex and had complex roots. And you are complex also. Even though I am explaining things as if one belief gives rise to one behavior (in this case, emotional behavior), really there are nets and webs of (interconnected) beliefs. Your cellular structure is also programming. So many things may come into play that result in the feelings or emotional experience we end up having in given circumstances (stimulus).

In addition to 'if-then' beliefs, we also have instructions and parameters for what we are allowed to feel, our options for showing and expressing feelings, our sense of what is right/wrong, okay/not okay, whether or not we are responsible for our emotions, and many other considerations relating to our emotions. For example, if we feel fear, what do your beliefs provide as options or as the preferred option for expression? Do you also feel guilt or personal condemnation when you feel fear (i.e. it's not okay to feel fear)?

Examining and healing our beliefs regarding emotions is a process that takes time and therefore patience, as well as that sense of humor I wrote about in an earlier post.

Let's use the example of a feeling of happiness. If you are suffering, likely you do not feel happiness or not very often, and it doesn't stay. Let's assume that (thus far) you have accepted personal responsibility for your experience of happiness, are willing, have gathered some courage, and have considered body energy issues.

Now you are ready to consider your beliefs. Here are some questions to ask yourself. You may want to journal the answers or exploration.

What models have I had for happiness--mother, father, media, religious culture, etc.?
Am I allowed to experience happiness 'at all'? Why or why not?
When is it appropriate for me to experience happiness (under what stimulus)? When is it not appropriate?
Where did I get that template for appropriateness? Is it serving me?
When was the last time I felt happiness? What was the stimulus?
When I do feel happy, am I free to express it? What are my expression options?
When I feel and/or express happiness, what are the consequences?


Am I willing to accept (install) simply waking up every morning as a free and open stimulus opportunity for happiness?



There are, I'm sure, many more questions you could ask yourself, but these will get you started. You will realize that your emotional templates are much more designed than you may have thought they were. Thinking and writing about these questions will, at least, open your awareness. While some beliefs are a little tricky and rooted deep, some beliefs may release and new ones install simply from becoming aware that you do have some options. You don't have to be bound by your old emotional templates that you inherited from your family or that you constructed over time from challenging personal experience. It's time for spring cleaning for your beliefs. Find new models of what other healed persons are believing regarding their emotions, and follow their wisdom and work.




I invite you to share in the comments. After reading this post, did an old emotional belief that no longer serves you come to your awareness? What can be your new model?