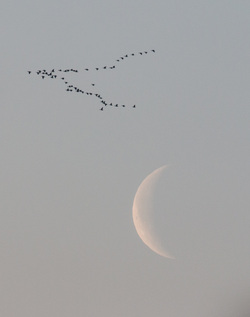 Part of healing is to come back to the present.

The present is the Here (present space) and the Now (present time).

Presence (and healing) also means to enter our body fully, no longer only nominally attached.

It is from the position of presence and embodiment that healing becomes possible.

The greater degree to which we attempt to inhabit the past or the future, then the more we will suffer. We cannot inhabit the past or the future, because they do not exist. We are only HERE. But if we direct massive amounts of energy in the attempt, we are draining energy away that we could enjoy simply for being alive and being at peace.

If we have the habit of "being gone", it is easier said than done to return to our body and the now. It takes some practice.

The first thing I do every morning is to go outside. I'm blessed to live in a rural area. So I have the sky before me. The houses, fences, fields, hills. I can hear the birds including the neighbor's peacock. The early morning air is delicious. I stand barefoot on the earth so I can ground with that energy. Then I do a deliberate breathing exercise. I raise my arms over my head so palms meet while inhaling; lower my arms so my palms meet in front near my abdomen, exhaling. Three times. While doing that I let go of any other less-than-helpful energy and become present to the things I can hear, feel, smell, and see. I allow myself to smile.

Throughout the day if I need to "come back" then I take a quick mental break and also concentrate on my breathing and on noticing with my senses those things in my environment.

Be here.