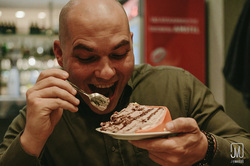 This subject may seem a little different than what I usually write about.
But I always say that I am here to help you recover your choices.

And there are few things that have kept me as trapped as my experiences with food cravings. How about you? You want to act and feel one way in life, but your food cravings compel you to something else.

My food cravings have gone down to close to zero (but not never). Here are some things I've learned to do that change my food cravings picture that I hope will help you too.

First, never lose sight of the reality that everything is energy. Food cravings are an energy problem and require an energy solution. In other words, it's not a character weakness. Something is really happening in your body that is begging to be addressed.

Second, begin your morning eating with protein and quality fats and high vitamin and mineral foods (vegetables and fruits). Eat lots of calories. (Never skimp on calories. Your body won't let you--it will crave.) Save your (whole-grain) carbohydrate eating for later in the morning, 11 a.m. or later. In fact, if you do eat protein and fats in the morning, this is exactly what will help you not experience real hunger or food cravings. Cravings will practically erase. In fact, your body will (over time) have a magnetic rejection of lower vibration foods (donuts and the like); you might not even be able to put them in your mouth. (Your body does require some carbohydrates, just not a large amount. A brown rice bowl lunch overflowing with veggies and some meat is good.)

Third, especially when it comes to chocolate cravings, what your body is searching for is magnesium and chromium, which are in chocolate. Make sure you have some high quality supplement (such as a protein shake) that has massive amounts of these elements. That will help to lessen the pull for chocolate (maybe not completely, chocolate pull is huge! ha ha). Magnesium, especially, is the element that will return your body-mind freedom to you.



Fourth, get some insight into your emotional reasons for eating. Two common reasons that I'll mention here are that we eat to numb stress and/or experience some excitement. Been there. If you want to numb stress with food, it's because you don't feel capable of maintaining your own safety in your life. It feels out of control. Learn how to repair your boundary and learn how to create your life using effective creation principles. As for excitement,
we are searching for a fake high because we haven't learned to experience the real high of life. We don't feel we have the right to our true desires or the right to have some real fun out there in the world. For both of these healings, use baby steps. It will be a process to learn how to handle life so that it is not so overwhelming for you. But it is skill-based, and you can practice skills. But give yourself permission to begin the first tiny steps. Create a large "library" or "toolbox" of
options
for yourself--options for stress soothing, and options for excitement. So that food is not the single option.
You deserve to be free and alive.