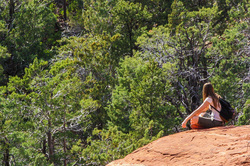 Giving yourself permission is an important step in healing. If our life isn't working for us and we are suffering, part of the reason for that is that we are bound by our thoughts, beliefs, and paradigm(s). Part of our beliefs and paradigm is the rules we have set or accepted for ourselves.

Rules are always going to get you into trouble, more or less. Decisions, choices, and commitments based on your values, dreams, your identity, your peace are life-giving and freeing. But rules (to me) means that a person is on automatic and has an unexamined life and self. Rules are what have been transmitted to us by our parents and our culture. These always need to be examined. It doesn't mean that we can't reaffirm what we have learned in the past, but there comes a time when we need to understand why we are doing what we do and choose it proactively--or discard it.

The kind of rules I am talking about are usually quiet rules but they can cause a lot of damage. For example, we may have an opinion or mental understanding of eating healthy. But we may have rules that bar us from actually living this kind of joy. We don't know that we do until we examine and become aware. We may have an opinion or mental understanding that we want a peaceful marital relationship and what that looks like, but we may be bound by our drama rules and don't afford ourselves the permission to do something outside of our comfort zone. We may know we need to love ourselves, but we may not have given ourselves permission to love ourselves.

Permission is the antidote to a rule. If you have a goal, target, dream, step, or any other need, desire, or healing that you want or can see and have done a lot of work for but can't quite seem to get there to experience, then check with yourself and see if you've given yourself permission.

Give yourself permission for your healing and peace.