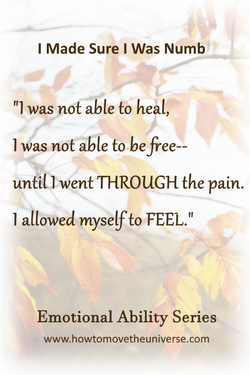 I was numb.
I made sure I was numb. That's what I wanted.

I stoned myself in as many ways as I knew how so that I wouldn't have to feel. One of my main methods of getting stoned (stoned = effecting emotional numbness and human isolation) was listening to music.

What?

Yes. I put my headphones on. I didn't connect with my children or my husband. I turned up the volume. And I listened for hours at a time. Looking back, the unrelenting pain and distress was always there, boiling, hurting me. But I pretended they weren't. I could pretend for as long as the music was playing. I could get a drip of euphoria from the music. I had to take the edge off. It was a massive edge . . .



Hours of music? Yes. That's how long it took to numb that much pain. It was a big job.



I didn't connect with myself.

I still wasn't acknowledging how sick I was. I was still condemning myself for the condition of myself and my life. I thought I should know what to do and be able to do it. (All by myself, of course.)



I was trying to go around, over, under the pain. I was trying to run in the opposite direction.
I thought in order to be "good" or "worthy" or even "alive", I had to be "painless". That pain turned me into the wrong. I was wrong.
I was not able to heal, I was not able to be free--until I went
through
the pain.
I allowed.
When I started taking committed steps to my recovery, I actually did this constantly throughout the day. I allowed the pain to arise and come over me.
Oh God.
I allowed it to move, to be, to show me. I allowed it to bring me to my knees, to make me cry, to hurt as much as it needed to hurt. When a memory arose, laden with overwhelming emotion, I let it play out instead of stuffing it back in to the body. I no longer tried to put a binder on my pain or hurry over to happiness (or as I thought--whatever the addiction drip was). I stopped choosing numbness. Without numbness, there was not peace (at first). There was a greater hell waiting for me.
I allowed myself to feel.



"My heart hurts! My heart hurts!" I used to chant out loud, for most of the day.
"Oh heavenly Father, please help me!" Another chant that escaped my lips hundreds of times a day. Another one (one I still use): "Breathe, Jenni, Breathe!"
How long did this last? Years. Years of a million of these prayers: "Oh heavenly Father, please help me!" My children got used to a mother that was always chanting under her breath while doing everything else in the day.

In addition to the challenge of allowing pain, there was also an underlying sense of relief at being able to acknowledge myself as I was. There was the relief of telling the truth and letting myself be. Of letting all the pain speak all the things it had to say. Of it saying hello and then good-bye in release.

Eventually came quieter days. There came the moments when something like happiness actually showed up at my door. A real smile connected to my real body.

Hmmmm. Well, what's this?

Maybe you'll be surprised and maybe you won't.

I had to numb it. At first. Push it away. Not this.

Happiness? What the hell? Now? After all this time? Wow, I felt really betrayed by happiness. For taking so long and then showing up quite unannounced and uninvited.

But being a more aware person by that point, it didn't take long for me to choose again.

You're allowed. Welcome. Come on in. As you wish. Here I am.

Even now, I do this work. Lately, I've really been noticing that I try to transform my unwanted (up to now) emotions into something else. If I feel bad, I try to meditate that out of me, right?

I can do that. I do have a choice.

But lately, I've been trying something new. I've been allowing some more.

Sad? You can be sad, Jenni. It's okay.

Worried? (People say worry is a waste of life!) Well, if you need to worry, Jenni, go ahead. I'm here. Worry.

Totally jazzed because my kitchen is clean today? I don't stamp that down because 'people' (who the heck are these 'people'?) don't get jazzed about a clean kitchen. Jenni, it's okay. Dance in the kitchen because you are the bomb for cleaning it!!

= = = = = = = = =

Emotional ability includes the willingness and ability to recognize, name, and allow our emotions.

A healed person doesn't mean that we have "fixed' ourselves to not experience a certain spectrum of emotion, whether the 'bad' (so-called) or the 'good' (so-called). I've even stopped using the adjectives "negative" and "positive".

Our emotions simply are the flavor of being alive. It's all beautiful. It's all an opportunity.

Recognize that if given emotions aren't allowed, we might have actually put a more acceptable emotional layer on top. Sometimes I call these primary and secondary emotions (although, heaven help us, there could very well be thirdly and fourthly emotions!). Usually our primary emotion is either fear or hurt. We put anger or judgment or people pleasing or numbness on top. Fear and hurt not allowed here. However, sometimes anger is what is not allowed, so we pretend to some sadness or a general malaise. Anger allowed here.

But the emotion for many of us that is least allowed is--happiness. If I can't be happy starting now and perfectly forever, then I won't be happy in any moment. Not allowed. Not for you. (Underlying story: I'm worthless. Also THIS.)

If you've never SPOKEN your emotions to your self, then this is one of the first passages to healing. No one ever healed with a body bottled up with unnamed, unmet emotions.



L

et them be loud, long. Give them space, time. Give them acknowledgement, a name, a realization, a story, notice the location(s) in your body. Look at them. Let them move out instead of shoving them back in.

Embrace and hold yourself.

And chant under your breath.


I invite you to share in the comments. What are you really feeling right now?