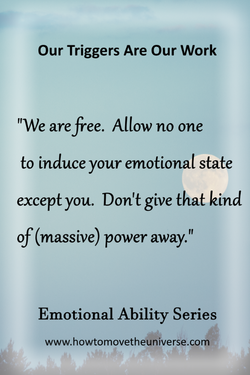 Emotions are induced. That is, given emotion(s) arise from given stimulus. Or another word for stimulus is trigger. There is no emotion independent from stimulus.

Sometimes, we proactively design our stimulus and therefore our emotional state. For example, we may have a favorite habit of turning on calming music to induce a state of calm within us.

Other times, emotions arise at prolific and unpredictable triggers that are simply a part of life. Someone cuts us off in traffic, voila an emotion is induced.

While non-human things can provide emotional triggers (the smell of apple pie reminds us of Grandma and we smile), often the more challenging emotional situations involve other human beings. These other emotional beings.

"You make me so angry," we say. What we really mean is, "I have a set of beliefs that instruct me how to emotionally react when this particular behavior on another's part is acted out in my presence."

Is that other person responsible for your set of beliefs and your instructions? No. If so, we would be prisoners, at the whim of whatever inducement others wanted to effect in us.

Rather, we are free. Allow no one! to induce your emotional state except you. Keep the responsibility for your emotional state 100 percent within you. Don't give that kind of (massive) power away to other (likely unworthy) beings who probably do not have your welfare in mind (because they are lost in their own triggers and reactions; we've all been there).

If another human being seems to induce an emotional state in us (reaction), it is because we haven't taken the time to examine our beliefs (operating instructions). We are likely still operating from childhood models and training about what emotion goes where for what reason.

We have to shine the light of awareness on our own reactions. We are free to design a proactive response. A response that includes the emotional state we wish to maintain or enter due to a given stimulus, or in spite of a given stimulus. Then we practice that response, a little at a time (patience!), until it becomes our new reaction.


I invite you to share in the comments. Has there been a time when you deliberately designed a (new) response to a trigger in your life, and how did that bless you?