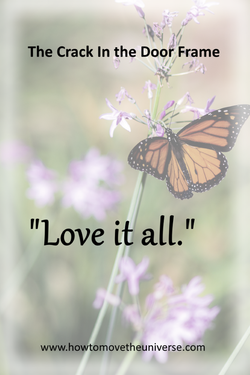 P.S. This is not part of the Emotional Ability Series. But it's the post that wanted to be written today.
--------------------------------------------------------------------------------------------------------

There's a crack in my door frame.

Not sure why. This house was brand new in 2009. I think the wood was just weak and split after a while.

The majority of my life is spent at my desk and computer. Thus, there is a certain visual frame of the same things I see every day. The window to outside that let's me see the sunrise, daily sky art, and sunset. My wall with my affirmations and goals I put upon it. The side door including the frame with the crack. Every day I lay my eyes on the crack.

Yesterday I was listening to a call where a woman, a talented healer, was guiding the group through a visualization and energy experience regarding abundance. I was relaxed and following along. But I'm not one whose mind goes totally quiet. There are always some skittles of thoughts.



I was sort of going through and comparing many of the laws, principles, and methods of creation and life that I had encountered from various wise

persons. I appreciate everything I have received, but often enough the various teachings don't agree. So I hold certain things in suspension and ponder them and live my life and add my experience into the mix, and eventually I come to a philosophy that works for me. I also know that not everything has to be reconciled. Paradox is the framework of this universe. Yin-yang. We balance the opposing (not agreeing) principles in order to find the narrow way of life where the yin-yang are married.



The woman

asked us to imagine how we would like a specific situation to be; to hold that hopeful image in our minds and in our energy and then to act from there. I didn't really do what she asked us to do. I'm tired of wanting things. It's energetically caustic to me. I knew what she meant--because you do need to create energetically before you can create materially. But what if I was just fine right now? Ha ha. (Wow, where is Jenn and what did you do with her???)



But as I listened, my eyes and mind wandered to my crack on the door frame. I realized that I have never intended to fix that crack because out of all the other things in my house and life that need to be fixed, that doesn't even hit the top one thousand. It was just going to always be there. But--what if?--I could visualize that door frame completely smooth and whole? Wow, cool. I could do that. It couldn't hurt. Either nothing would happen. Or something would. So I started to create the imagination

of a white, smooth, whole door frame and I superimposed that imagination over the split door frame I have now. It was just for fun.

But then--

That little crack spoke to me.

I heard, "Don't you love me?"

Aaaah . . .



I softened immediately.



Why, yes, my dear little crack--I do love you. What would I do if the frame were all smooth and white? Where would you be? My companion for every day.

And I felt then that the most perfect visualization for that door frame was to see it exactly as it was and hold it precious.

I wanted to repair that split in the wood. I wanted to make it perfect.

Such a failing in my eyes and heart, to not be able to see how glorious it was and already perfect.



~~~



There is a beautiful man I have known for almost ten years. He has been a constant, gentle friend to me. Lately our connection is becoming even greater. I am curious as to what this passage of us will be. I'm willing for it without trying to pre-design it. We're long distance (including much different time zones), so that means Skype. This week has been a comedy of errors as we have tried to coincide our schedules to even have twenty minutes of conversation. In the (far) past I might have been deeply dismayed and frustrated by this state of things. But I realized that there was a gift in being parted from him.
I miss him.

That's a gift? Isn't it pain?

Yes, it can hurt. But I also find it precious. Missing him is a sign of the value of the relationship. And I am thankful for the great value it has for me. I am thankful to be missing him. I'm thankful that I have someone to be missed. Someone that I know is missing me. I don't need to comfort myself and wipe away that emotion.

I want to feel it fully.



~~~




From each progression of my present,
my past
continues to be reframed. Even just this week I felt a new serving of peace regarding my memories. And when I felt the love for my door frame crack, I also realized that lately I feel that I can view my childhood and young adulthood without condemnation.
Those cracks
. Of course, I'm in a new place. It
is
the past. But I don't need to change it any more. I never could, but I sure wished mightily. I wished I could start all over. I wished I could be someone else. I know I messed up in the deepest ways possible.
Well. Or it was simply split wood.



Who would I be if I could get that past all white and smooth? I like this day, this now, this place I've come to, and the road I see and still have ahead of me. This day, this present is worth more than gold to me, and I paid more than that to get here. I paid my blood, sweat, tears. I gave my commitment. I gave my humility. I gave my everything. I gave my life.
Nothing was white and smooth. (It still isn't.) It was broken and alive and real and me. Unutterably precious.
Of course I love you, my dear little split past.



~~~
I was married and began my adult life almost 26 years ago. My symptoms began immediately. One symptom was my inability to maintain organization and cleanliness in my surroundings--my house. I had full blown hoarding. My hoarding symptom was active until about 2009-2012 (it didn't stop all at once; it was gradual). But even after the symptom was no longer presently active, I still was surrounded by scar tissue from the past. It amounted to boxes and boxes of
stuff
.
So for the past several years (2009 to today) I have been doing what I call clearing.
I take one of those boxes. I open it. And I do the emotion-laden work of looking at the items--throwing them away, giving them away, using them in real time, making a decision to keep a few sentimental items (but not too many! ha ha). It's difficult work for me. I just have to keep plodding along.
I'm on my last box.

There are no words to describe my feelings at this time. 26 years. And now it's over. It was that. And now it's not. It's new and it's this. Me and my house without all the boxes.


My bedroom was the last room to clear. My living room and kitchen have been cleared for at least two years. But my bedroom was the main dumping ground. The trash heap. You can translate that as to the value I gave myself. Less than the garbage because I was underneath all those piles. My bedroom was a place I didn't want to be. No room for me. No peace. No order. Overwhelming. Gross. Nothing pretty.
The bedroom is clear now. The floor (even under the bed!) is empty, clear, peaceful. I can walk about. The light teases in through the drapes and lands on a smoothly made bed with a quilt spread I really like. The shelf is arranged nicely with just a few things. I can sit on the bed and just enjoy being with myself and my thoughts. It's a sanctuary now. There's nothing hiding, lost, clogged, undone. I have never had a bedroom like this. Not in 26 years. And not in 45 years, because my childhood bedroom was--well, it was bad too.

I walk around in my bedroom and I almost don't know what to do. What do I do with this material reality? That I manifested! My God, it took me 45 f*king years, but I manifested this b***!!! Ha ha ha! (I'm laughing out loud and crying at the same time, ha ha ha ha.)

Except thankfully I am aware enough that I do know what to do.

Accept it and smile and love it. My dear precious bedroom with absolutely no cracks in it.

~~~

I hear the phrase, "You don't need to be fixed, because you were never broken." I do love that phrase.



I also hear all the teachings about how to create and manifest

and that you can have whatever you desire with a few simple methods, such as vibrating at a matching energy state for that which you do desire.

So which is it? Go for what I want? Or is everything fine just the way it is?

Both.



There's no use pretending that some things don't need changing. There is absolutely some broken and toxic stuff. In our being, in our reality. We don't have to stay there in a prison. We are free. There is a path out of what we suffer from. We can change and become new. And sometimes we really need to change, as soon as possible. Yes.




But it's all precious, as well. Weakness is as precious as strength. The mess is as precious as the order.
Love it all.

And keep going. Take one more step.



Love yourself enough to accept yourself as you are. Love yourself enough to heal and free yourself from any suffering.





My honor to the incredible YOU.

I invite you to share in the comments. What is one 'broken' thing you choose to love now? What is one thing you are ready to take another step in changing?