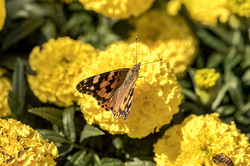 This post is the last installment in the emotional ability series I have been writing for you, beginning with
this post
back in February (if you'd like to review).
Today I'd like to share a framework with you that may help you understand how to put that first foot forward in your emotional ability journey and see it through to the end.

If you are beginning in a place where your emotions (and therefore your life) are painful and bewildering to you, then your first priority is to give yourself the gift of emotional safety. Learn and choose that first. Stop sharing (deeper) emotions with unsafe people who don't know how to support you because of where they are stuck in their journey. Seek safe people. That may be a professional third party (perhaps a therapist or a clergy member, as examples), or a close family member or friend (pets count!), or perhaps a new group of people with common interests or struggles that 'get' you.

Become safe for yourself. In quiet, personal moments allow any emotion that wishes to arise without repressing it--whether that is a giggle or a sob or a growl. Learn to release judgment against yourself for simply feeling something. Validate your own emotions (don't wait for someone else to do that for you). Yes, you may need to learn how to healthily express a feeling (next step in the framework). But for simply experiencing a given emotion? Allow your self room and permission to look at it, hold it in the body as needed. Then allow it to move out of the skin--gently or tempestuously. Be compassionate toward yourself as an emotional being.



Also notice if you are having to suffer other people's emotions, especially on a chronic basis, that are not safe for you. Create a strategy that will allow you to be protected from that person(s) and their emotion. Get help if you need it. Strengthen your boundary. Physically leave their presence, perhaps.



Be willing to examine whether or not other people are safe around you and your emotions. Be honest about that. Perhaps just this simple awareness at this point will help you begin to make some new choices.

Meanwhile, as you experience more safety and relaxation during an emotional experience, you can move into the second step of the framework, which is emotional proficiency. Here is where you are going to do a lot of work (and you might like to refer to the various posts in the emotional ability series for ideas of what needs to be done). Over time, baby step by baby step, get some skills with emotions. Install some new beliefs. Install some new thought statements (which trigger emotion). Release the old ones. Understand and heal your triggers (emotional reactions). Get a tool kit, especially for those common situations you find yourself in--for example, if you are often angry, get an anger tool kit. If you are often afraid, get a fear tool kit. If you would like to feel more acceptance toward yourself and others, create and employ a tool kit for that. The main proficiency is how you will choose to express an emotion once it arises. Another important one is how to use and share emotion to deepen intimacy in your relationships (rather than being divisive).

Over time, as you gain more emotional knowledge, and practice what you know, you will eventually begin to enjoy emotional thriving. In this stage, your skills are more second nature. You feel free and relaxed throughout the day for the most part and do not have to second guess or consciously handle yourself and others and our emotions; it just comes naturally. You feel alive and are grateful for all the flavors of that life. You have plenty of room to cry and to laugh and to scream and everything in between. And you have room to allow others' around you to do the same.

I do hope this emotional ability series has helped you to understand that you can do something about your emotions if they are currently a source of pain or overwhelm for you. There are steps you can take, things you can practice. You are responsible for your own emotional state.