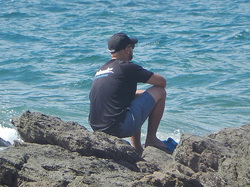 "Living at the speed of rest . . ."
Julie Dittmar
At How To Move the Universe, there are several specific ideas that I feel I have learned for my life and therefore try to suggest for your experience as well. One of those ideas is Rest.
It is my experience that, at least in the United States where I live, there is an accepted pace of life that is at high speed. Any other speed is unacceptable. But I want to suggest to you that this is a paradigm; and a paradigm I do not want to support. We have invented and we maintain this necessity. But is it?

I'm going to say something that might even offend some of you.



Productivity is not a virtue.
What if we flipped this belief system on its head and accepted that Rest was the ground virtue and way of living and only once in a while we had temporary passages of medium or high speed, either for pleasure or purpose?

That's what I'd like to see and that is what is more human in my opinion.
In any case, in my life I have continued to try to create great swathes of time for myself that are not goal oriented but simply allow me to be and enjoy and rest.
Long baths. Long lunches. Silly time and talking time with kids. A whole afternoon with a book (did the universe break? no). A whole day in the wilderness. Catch up on my favorite tv shows. Art. Sleep in. Window shopping. Music and dancing. Call a friend and chat. Sky watching.
Slow down. Not a little. A lot.
Even in terms of a goal-oriented person this is more possible than ever because of all the knowledge and tools we have that allow us to cut down on the time and the physical actions for manifesting or creating the life we want, the things we want. Yes, there may be a project season where we are directed and constant (but still should be nurturing ourselves). But what is the point of the project if it doesn't lead to more personal enjoyment and the time for that enjoyment?
Of course, if you are like me, I love projects for their own sake. I do feel alive during them.
But I don't want to be a slave to them either.
Especially if you are coming to the How To Move the Universe website because of some deep healing needs--if you are, as The Journey page says, tired, hurt, empty, stuck, etc--then the last thing you need are some goals and productivity. You are exhausted from what you are going through. You need massive amounts of Rest and to slow waaaaay down and take things one step at a time and just breathe. You need to find you instead of something 'out there' to productify.
Live at the speed of Rest.