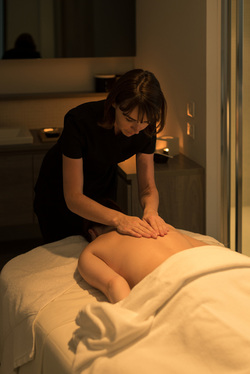 Today I want to share a little technique or visualization I have used to help myself whenever I experienced overwhelming emotional pain. I hope it can help you too.

From the time of my childhood forward, I experienced trauma. The emotions, thoughts, and the memories of these traumas lodged in all the places of the body where I stuffed them. As I tried to function as an adult (and was unable to), part of the reason were these accumulated emotional+plus packages--they were "gifts" that kept on giving and kept me living half a life--or really more like 1 percent of one. The memories continued to arise (visually and emotionally) and haunt me, and I stuffed them right back down into my body so I didn't have to hear them, feel them, deal with them.

When I began a pro-active healing journey, one of the first steps I needed to take was to be here including being present with my pain. Instead of stuffing the horrific feelings, thoughts, and memories back into my body, I had to allow them to play out. This, as you might imagine, was very overwhelming.

At one point I did realize this idea that I am sharing and it helped me to be able to be patient with my healing experiences. It is that there is entering pain and leaving pain. While this may be most applicable to emotional pain, let me first show at least one physical example. When you get a massage, sometimes you actually feel pain. But it's good pain, right? You know your muscles were so tight or otherwise crying out for healing. Even though you may not have even noticed it any more or registered it as pain. But as soon as the masseuse touches, you can feel that ache. But it is the ache of releasing. It's something we embrace and want to have happen because we know the end result is relaxation and health.

Whenever an old memory full of pain and other emotional charges presented itself to me and I was reliving, I tried to remember that this was leaving pain. It was on its way out, if I allowed it and breathed instead of stuffing it back in. It needed acknowledgment. It needed a chance to be addressed in whatever manner I understood best in my healing toolkit. (This doesn't mean that you will have these memories/emotions present only once. They may be pretty deep or ingrained traumas.)

Sometimes I was battered throughout the day by these kind of emotions/ memories. So I began to talk to this pain and visualize with it and I imagined that it was passing out of my skin. That it was arising from whatever part of the body I had put it in, and I gently guided it to be released without resistance out of my skin. It was a sacred, healing act. At first, I had to literally sit and do this and it was the only thing I did. Later, while going about my day with other things, I would notice even the smallest of wisps of pain and memory and it only took a second for it to leave the body through the skin.

So when you feel overwhelmed or in pain or suffering, perhaps ask yourself if it is entering pain or leaving pain. If it is the latter, then be at peace and breathe and let it take its time to play out. Leave your (energetic) skin soft and porous to give it plenty of room to pass out of your body. You're getting cleaned out of what you don't need any more!