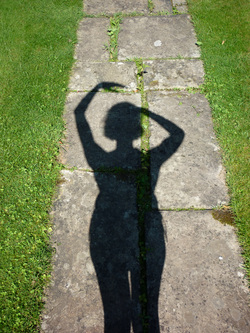 Rating my daily life experience on a scale from 0 to 100, I have described my past as a long journey just to get to 0. My daily experience was anywhere from -1000; to -35 on good days, ha ha.
Acting on what I was learning about my body and the central role it plays in the kinds of daily experiences I am having, I was gradually able to make the "climb" out of the depths and when I had a "0" day and then had several "0" days in a row, I was deeply happy.

These days my experience is usually a 5 to 15.

I've been satisfied and grateful for this.

But lately--since I'm still alive and all, and have the time--I have been wondering what it would be like to get to 100. Or maybe 650. Or even 45!

But for a moment, I forgot all my lessons. I started to push myself with schedules and behaviors. "This is what will make me happy, excited, abundant! If I do this! And that! and this!"

I forgot about my body.

In November, I reminded myself. "Jenn, if the 100 experience is possible and available, it's only possible and available within your body. You find that through your body. Just like you went to 0 with your body, you'll go to 100 with your body."

Duuuhhhhh . . . .! Ha ha.

So I began with this theory. The "100" woman is already in there somewhere. I don't have to make her. I have the privilege of uncovering her.

My body, even though it has healed miraculously a lot so far, is still weighted down with toxins and old emotions and outdated beliefs, et cetera et cetera. If all I do is to clear that out, then the "100" me will show herself without any other training on my part. Just as a "0" body chooses, acts, feels, thinks--experiences--much differently than a -68 body, so will a 89 body naturally choose, act, feel, think--experience--differently that my 5 body. I won't have to "train" myself. She's already there and she already knows how to live. I just have to get the shit out of the way and let her breathe.

So I'm starting this week with some detox and nourishment protocols, which my body is positively craving so it hasn't been difficult. An avocado a day (for fat, the most important nutrient your body needs), lemon water every morning, lots of spring water through the day, protein with vitamins and minerals shake every day (loaded with magesium and B12 among other things), and an herbal detox protocol that I will do once a week. I will probably do a few other things, but that is a start.

I'm excited and curious to see the Me that shows up. I'll let you know how it goes.

By the way, if you would like to have an experience that clears and nourishes your body so that you can recover your body, your choices, your life and experience relief, healing, and the ability to create your life--then I invite you to START HERE. It's what I do here at How to Move the Universe! To guide you through that!