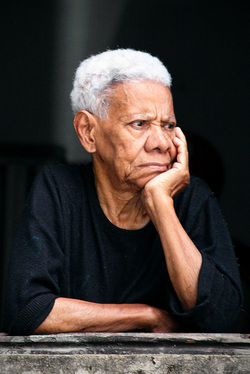 Mankind generally is addicted to thought. This may also be a problem that affects you personally, daily and that carries less-than-fortunate consequences in terms of peace and healing.
What do I mean?

Thought are those images, statements, and similar expressions in the general locality of the brain. Thought is a very powerful and delightful tool. Healthy thought is a part of a peaceful life.

However the problem arises when we give significance to thought as more than a tool. When we identify with thoughts (i.e. our thoughts are ourselves) or imagine that they provide reality or truth, then we can get into a painful or stuck zone.

Thoughts are computational. Thoughts confirm what we (think we) already know.

Thoughts are not your mind. Your mind is not in your brain (only). Mind and intelligence are invested throughout your body. Mind is directive, non-verbal, miraculous energy. Thought can be a servant of mind although as I am suggesting, too often our thoughts are let run amuck because we attach significance to them that they cannot meet. Knowledge is not even primarily in thoughts, although knowledge can be brought to bear on and within thoughts. (Knowledge and information are not the same thing. Thoughts may hold and work with information, but that doesn't mean they hold knowledge necessarily.)

Normally, thoughts can only solve problems within existing paradigms that we carry, sort of like trying to solve problems 'in the box'. This is useful many times because we employ our thoughts with daily managing tasks, and this is fine, if we've set up the thought system that works for us and is helpful and healing. (Imagination can be harnessed by the mind for greater results outside the box but this occurs in an energy state other than our daily thoughts.)



I disagree with the idea that thoughts create our reality. In my understanding, our choices, decisions, and (entire) mind/body creates our reality. Choices are not thoughts, and thoughts are not choices. But hopefully we can ask and/or train our thoughts to support our choices.



All human beings generally live life to a background of thought chatter, and as I said we give primary significance to it unless we have become aware not to. We accept thought as the prime mover instead of the symptom. And we are addicted to this chatter. We wouldn't know who to be and what to do without it. We believe our own thoughts instead of just seeing them as a machine with a certain output based on what we have input. We also are uncomfortable with inner silence (because then we have to feel).

The answer is not to deny or squash thoughts. Thoughts deserve our love like all of our body does (thought is part of our body; our body is a structure of energy). The answer is to gently, consistently train our thoughts according to our deliberate decisions if there are some specific results we would like in our life that would benefit from a thought tool. And to otherwise loosely experience thoughts, let them come and go if they arise when we don't need them. Neither repress nor hold on to the chatter. Release the addiction. Just let thought go along like a little brook of water, and meanwhile simply breathe and come to presence in the body. Be here in direct experience of the senses without putting a sheen of thought (interpretation) over it.

I also want to point out specifically the thoughts we have about ourselves and about our life. When we hear a thought like, "I just can't do anything," or any similar thought that supports a pain experience, please no longer accept this as prime. You don't even have to think about thoughts as negative or positive. Just ask yourself, "Do I choose this reality? Did I decide on this as truth?" If your thought is broadcasting about your inability (or etc) it is based on some decisions you have made (whether you are consciously aware of them or not), and your thoughts are good little servants and are supporting your decisions. Thoughts are not meant to be master, so don't give them the honor of a master. Your decisions (which are not made in the brain or by thought) are the masters, and then your thoughts will support or can be trained to support those decisions (You make a decision that you are an able person; that decision is what makes it true or real in your life.) Your thoughts may need training because even when our decision changes, our old thoughts are on rut pathways of chemical and electrical structures. We may even need to do mental and physical detox. You can learn methods and become skilled at directing and using your thoughts in the way they were meant to be.

Become free from the addiction to your own thoughts.