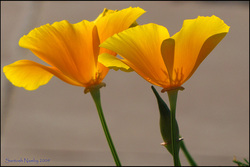 I set my first goals when I was twelve. I had a huge binder with divider sections. Each section was a section of life. I wrote down how I really wanted to live. (I didn't like very much about my childhood life and already wanted to get out.)

I don't remember anyone teaching me to do this or getting the idea from anywhere but inside myself. I was a child with a massive imagination. I guess I figured while I was conjuring dragons and sorceresses, I might as well start conjuring a life I wanted as well.

I didn't meet those goals. I set goal after goal after goal, through my teenage years and into my adult life. I kept writing down a designed life. But I remained powerless to create those images. The result was a fake life on a piece of paper. Meanwhile I was drowning in my actual hours and days in a life that had come out of hell.

I didn't start learning about Law of Attraction until my late 30s. It was really difficult to hear that I was responsible for manifesting my misery. At first, I didn't want to believe that. Now I appreciate the principle of 100 percent responsibility. It doesn't mean we can control everything in life (we can't). But neither do we have to give away our power nor wait for any rescuer. We can rescue ourselves. We can own our power.

Easier said than done sometimes.

I did gradually become more able to meet goals. I recorded some music. I wrote a novel. I finished my schooling. I got jobs. Improved my parenting. But it seemed that each of these goals took years and at great cost. I was in such a hurry still to get to my ideal life. (Still am!)

I have always listened to a lot of motivational speakers and read success books, et cetera. I would hear a lot of praise for goals and of the necessity of them. I would hear step-by-step instructions on how to reach goals. Later I heard about vibrating at the right state in order to manifest.

I was never able to utilize this information in order to create. I kept failing and kept disappointing myself. Even small goals, like, "Clean the kitchen today" were close to impossible.

Fast forward to now. I still set goals. As you can see, I have been creating on at least one goal which is to bring How To Move the Universe into existence. I feel like I've accomplished a lot.

In fact, "moving" the universe is exactly what I always wanted to do with my goals. But it has taken me this many years to understand what that really means and what is really involved.

Here is what I know now. Goals are still important creation tools. However, some of us are not prepared to make use of that tool yet. If your life is particularly distressed, then goal-setting may not be what you need to be doing right now. That is like trying to plant a seed in concrete, just to give you a metaphor. It's not that the seed is a bad idea (the goal), but that the soil isn't ready (you, your body).

When you focus instead on healing and nurturing yourself, on recovering your body, then when it comes time to set a goal (plant a seed), then it can grow very quickly in fertile soil. You may find that even simply in the process of healing, much of what you have ever desired will unfold naturally without ever having to set a conscious goal.

So if you can identify, that reaching your goals has constantly eluded you, then I invite you to begin the How To Move the Universe journey to healing in order to recover your body, your choices, and your life.