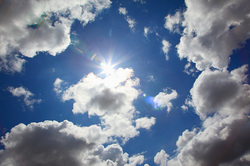 Your body is a distinct structure of energy positioned within an unlimited supply and field of energy we call the universe. The universe is like clay. Its properties respond to the properties of your body in order to generate your experience. The life you live arises from the energy state of your body.

You have the opportunity to pro-actively choose and act in order to heal and to direct your body energy and therefore manifest the life you hope for. But this isn't usually instantaneous. It takes knowledge. It takes application of that knowledge. It takes patience through the process, such as when a seed planted grows into the fruit that can be harvested.

If your life isn't working for you, then this means that there is some challenge in your body (which is energy). Recover your body in order to recover your life.

Some healing paradigms rely on behavioral methods to produce a new life. Some of this kind of process is helpful. But in my experience behavioral methods also fall far short and often do not last. In my experience, focusing on and healing body energy naturally produces behavior correspondent to the cultivated energy state, many times without any additional behavioral practice. In those instances where behavior change is still needed, it is able to be effected effortlessly if first the body energy groundwork has been done.

How To Move the Universe provides the needed knowledge for recovering your body and guides you in applying that knowledge so that you can experience life healing. I invite you to the journey.