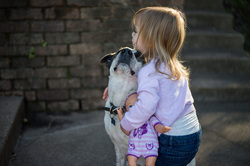 A couple of weeks ago, my two youngest sons and I traveled to my home town to attend the funeral of my dad's wife and to just be there for my dad. My brothers and sisters, of course, also arrived at various points.
My brother has three daughters. His middle daughter, Maisie, is 7 1/2 years old. Right on the edge of innocent childhood and the coming years when her eyes will be opened to the wider world and its special crazy, and her greater ability to act in it.

Maisie is a unique child. Of course, all children are. But you always know Maisie is in the room. Her energy and presence surpasses most people's. She's an old soul, but not one of those serious old souls. She's here to have a blast. She is always ready to connect with you. Her words are endless and she marks out exquisite, curious wisdom with every sentence.
I don't know if she planned this ahead or not--it being a funeral and all--or it just became her serendipitous groove for the weekend, but Maisie was giving out hugs. The second she walked into the house, she made a beeline to me and wrapped her arms around my waist. Then she squeezed like a boa constrictor! Tight, tight, tight she tensed her arms. This wasn't a social hug. This was a monster hug! She directed all her energy around me and through me.

Really. I don't remember being hugged like that ever. My body was really surprised: "What's this?"

I thanked and praised Maisie for her hug, of course. She then proceeded to give a hug to everyone in the room.

It didn't end. Over the weekend, I got no less than four of those body-crushing hugs. If I was sitting down, my shoulders were surrounded by her loving vise. Maisie was surprisingly strong. She continued to hug everyone throughout the days.

I was feeling vulnerable that weekend for a variety of reasons. (But, then again, when am I not?) But Maisie and her tight hugs disrupted that for me, in a good way. I was worried about things, you know? I was worried about deep things, like if I was taking the right course in life and how in the world I was going to be strong enough for this and that.

But when Maisie was hugging me, it felt like all of that weight and mind-and-emotion games I do to myself just wasn't that important, and it certainly wasn't real except for the reality I was affording it.

Just hug her back. Tight.

Later, after another one of those hugs, I again gave Maisie my heartfelt thanks and told her that I loved those hugs. She stood up straight, pointer finger in the air, ready to give her special brand of commentary, and in her little girl voice said, "I can give hugs tighter than that!" I laughed inside and tried to imagine what a "hug tighter than that" might be like. Breathtaking. She wanted to love me that much. (I didn't even want to love me that much . . .)

Around my computer monitor, I tape 3x5 cards with motivational sayings on them. Things I want to believe. When I got home after that weekend, I made a 3x5 card that said: "Maisie's Hugs". I want to remember those forever. I want to remember how Maisie saw me--as the person who should be in her arms. I want to know that whatever I think is challenging me in my life at a given moment doesn't stand a chance when it comes to Maisie's hugs.

Because there are hugs even tighter than that.