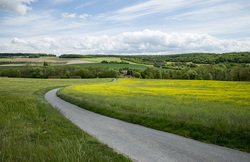 While How To Move the Universe is oriented more toward healing and not regarding Law of Attraction specifically, nevertheless our most fundamental identity is that we are each creators. We are creating one hundred percent of the time.
If your life isn't working for you--you are exhausted, hurt, lonely, frustrated, and more--then one way to describe this is that there is some serious interruption in your creation groove, yes? No one wants to admit that we are the ones that create or allow pain and other horrible realities into our life. And, indeed, many times we are hurt or harmed by the choices of other human beings (creators) when we are too weak to do anything to protect ourselves (such as during childhood). But the alternative is to give our power away and say that someone or something is controlling us. That is also unacceptable.

Indeed the universe and the world and our own bodies are full of forces or energies. It takes some knowledge and some practice to handle these in order to be deliberate and free in your creating. Learning from some great Law of Attraction masters and mentors is going to be on your To Do list.

While I am not that, nevertheless, here at How To Move the Universe there are several principles that I emphasize in my teachings that can lead you to be effective in your creating.

Choice is creative. Your accumulated choices are your life.

Your body is your instrument of choice. The Law of Attraction is based on the Law of Vibration. Your body is a structure of energy. It is always in a vibratory state of one level or another. If your life isn't working for you--all the challenges I described and more--it means your body isn't working for you. And this is where How To Move the Universe concentrates--on recovering your body. You will have challenges in attraction if your body isn't participating. (Emotions and thought are aspects of body.)

Potential (energy), which is ready to be used in creating, is all around us in the universe. It is unlimited. It is always ours. You can't have too much of it and you don't hurt other people by using as much of it as you need or want. However, sometimes we may not understand our relationship to that potential nor understand or have access. (We've blocked ourselves.) At How To Move the Universe, you will learn how and practice accessing potential. (Hint: Your body is a potential-accessing and -using instrument!)

While we are surrounded by unlimited potential, we do not experience unless that potential takes form (energy). This is creating. At How To Move the Universe, you will learn how to program the universe with your choices in order to experience peace, freedom, and your desires in present form.

Between potential and form, there is a process. I also call this the barrier, or the barrier process. This means that potential is drawn out to come into form and it passes through the barrier to do so. (We move the universe!) That barrier has process and time (sometimes more, sometimes less). As human beings, in the barrier process we have the potential for either suffering or joy. At How To Move the Universe, you will be supported through the barrier process so that you can experience peace and joy during that time. (In Law of Attraction, this is conceptualized in a little bit different model. You may prefer that model and that is fine. When you are in a given vibration, experience that matches that vibration will show up. There will be a time lag to this.)

These are the main ideas at How To Move the Universe that address creating directly. However, everything I do to support you in your healing has something to do with creating because it's your life! It's your body!

If you would like to begin your healing and creating Journey please start HERE.

Another blog post you may enjoy that talks about this some more is:
What Comes Before the Dream?