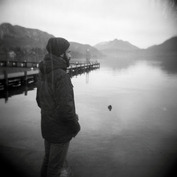 "Sometimes loving more is easier than fearing less and gets the same results."
Mike Dooley
My healing has really accelerated over the last couple of years (since about March of 2013) to the point where I feel like I am a new person and have a new life. The past just doesn't have the sting any more.
I'm grateful. And I look forward to what continues to unfold in my life.

However, part of my healing is to have and be able to exercise new responses to the challenges that do come up. It's not reasonable to expect smooth sailing all the time from this life. There's always a little bit of chaos (and sometimes a lot!).

My body still contains a lot of old emotions, energy, trauma, habits, memories and thoughts (etc) that haven't completely released. In fact, my healing has opened the lid on a lot of this. Part of my healing is to allow what is happening just be what it is and not try to deny or stuff it or anything like that. So that seems to have been a signal for all the past things I was holding on to, to get the heck out of Dodge, so to speak. So I still have a parade of these energies that arise, on their way out.

Alternatively, some of it isn't leaving but still wants to talk to me. Again, not surprising, because the energy they hold was my habit for decades. In some cases my body doesn't even know how to do something different. So, like I said, I search for new responses. I don't want to fight or judge myself any more, or any similar emotion, action, or paradigm that re-traumatizes myself.

So just in the past couple of months I have been trying something new and have been very happy where it is taking me. So I wanted to share it with you for your use also, if you like.

Whenever I feel something negative, hurtful, limiting--anything of my old way--begin to speak its piece to me ("You can't do that." "It'll never happen." "You're ugly." "You're forgotten." plus a lot of just nameless yet familiar and deep-seated malaise) then instead of getting upset or trying to banish it or any number of "right" things to do, instead I acknowledge it. I greet it. I hug it. I speak to it. I have a phrase I have been using. "Come with us."

It's a plea, but not from a place of desperation. It's a plea of delight, such as a child might give to invite their friends to a game or an explore. "Come with us!" I know that all of my body wants to participate in my healing and my joy. Some of it just still needs permission and a trust that it can. So I surround that place in me with love without trying to force it to change and just whisper, "Come with us." and then try to flow to it an example of the peace, love, and laughter that is in the rest of the body.



The energy I am talking to responds in different ways. Sometimes that was all it was waiting for and leaps right in with faith and relief. Other times it needs to cry. Other times it just doesn't believe yet, still, so I have to be patient and keep offering the invitation as often as needed.



I love these gentle but potent moments. And I hope the "Come with us" idea helps you too.