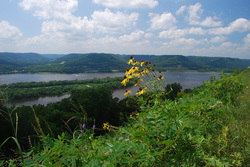 "I'm just not in the mood."

There is a theme in the society I am most familiar with, that a successful or even an acceptable human being, pushes past their mood in order to act toward a goal. We are supposed to take action even when we don't feel like it, even when our emotions aren't on board.

I'm not going to discount this completely. There's something to this. Our emotions are our emotions--but they aren't always "the truth". Sometimes the way we feel does hold us back from a fuller experience of life, and so it's important to have some clarity and then realize that we are free to make choices.

But in this post I'd like to balance that idea.

The energy that we personally carry and the energy that we encounter in the larger world can hold important messages and signals that many times it is best to pay attention to and honor.

Life may go easier for you if you act with the energy instead of against it.

Here's a good example.

Why do we push ourselves to exhaustion? This really isn't okay. If our body IS exhausted, then rest and recovery is in order instead of marching onward toward a target. Listen to the kind of energy that asks you to rest. And if you are tired all the time--that's still a message that needs to be addressed. Instead of ignored and acted over the top of.

How about when we get gut feelings that a certain person (relationship) or a certain activity is not really in alignment with our sacredness and integrity? Do we spin a justification in our head that helps us act over the top of the energy?

How about when you have a full day of work around the house that absolutely needs to get done (right?) but your child grabs your hand and says what you are feeling too, "Let's get out of the house and dooooo something!" Can you listen to that and follow that energy?

Energy provides times for everything. Sometimes it is personal energy, such as for women. As women in our moon cycles, there are different kinds of energy in that cycle, and thus different kinds of things we could be doing with that energy. (Our society hasn't particularly allowed for that.) Sometimes it's planetary energy. For example, there is spring, summer, autumn, and winter energy. What you do in winter is different than what you do in spring. (Also not particularly honored in our society.) There is morning, afternoon, and evening energy--how do you personally work or live best during these times?

So if you are ready to learn more about energy--your own and the planetary energy--I invite you to do a little investigation about energy knowledge and methods, as well as be willing to listen to the energy you are experiencing and what it is telling you about what actions are best to take at a given time.

Honor energy and act with it.