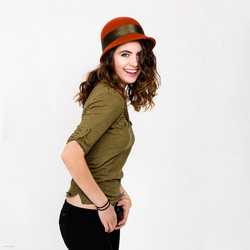 I was still struggling with daily mental illness symptoms in my late 30s. I remember one day I drove to the grocery store. I was in high anxiety, as I often was. When I parked at the store, I looked down at my shoes and I became convinced that I had
worn the wrong shoes to the store.
This was an overwhelming sensation that was instructing me to turn around and go home in order to change shoes. I was mentally punishing myself for the wrong shoes. (Clue: There is no such thing as the
right
shoes to wear shopping.) I think it was this experience that prompted me to seek out medication. I actually had a lot of awareness at that point which meant that I could experience the sensation including the thought pattern yet to understand it for what it was--a symptom--and to cope through it. It was that awareness that got me to thinking that I maybe didn't have to do this all the time if there really was a medication that worked.
I also remember a time that I had a conversation with my son (fifth child). I can't remember how old he was exactly but between 7 and 9--young, but also getting to be old enough to understand a few things. It had been a rough day. I remember taking a few moments to tell him, "Mom is sick." The relief on his face as he understood was big. He was framing all the crap that was coming out of me as sickness. It made sense to him and took some weight off his shoulders.
I told you how I went to the massage energy worker lady in Part 3. One instruction she gave me was that I needed to be taking B12 particularly and other B vitamins. I didn't believe her and actually said that out loud to her. She pulled no punches. "Your body is lying to you. It's saying you don't need what you need the most."

So I picked up some B12 pills at the health food store.

And my life changed.

I have never been without my B vitamins since, and when for some reason I can't (usually financial reasons), I can feel it and I exhibit (more or deeper) symptoms.

I began to look for a better delivery of B vitamins that just some bottle of pills. For a while I took EmergenC. I did that for months. My youngest child who was younger than 8 was also starting to show symptoms of depression. Thankfully, because of my own experiences, I knew exactly what I was looking at. So he and I fixed our vitamin drink every morning, and any time during the day we needed it. If he exhibited symptoms on a given day, our mantra was, "I think you need your (my) vitamins." I was glad to see him start to understand how to help himself. (Thankfully my other children seem to not have symptoms. Except for my oldest (adult) daughter who is exhausted and 'can't move or do certain emotional things' and I keep trying to teach her about her food. She still believes it is her intrinsic personality and that she needs to wrestle behaviorally with herself instead of working with what is going on in her cells.)

I don't mean to be an advertisement for EmergenC (I have no connection with them), but they saved my life. I fixed a huge jar of EmergenC every morning and whenever I needed. I put in four packets at a time instead of just one. It was what I needed and it introduced me to the idea of megadosing (vitamins and minerals). However, it's only megadosing in comparison to what we are told are recommended daily amounts. It's not megadosing in terms of what our body actually needs.

My energy, emotions, and thought processes were founded on vitamins and minerals.

But there was one more healing leap.

In March of 2013, a friend of mine introduced me to a cellular cleanse product. The same company also had a protein/vitamin/mineral shake. (Not trying to advertise, so I won't say the name. Also there may be a lot of good products and protocols that will do the same thing.) I went through the cellular cleanse process, and I felt a way that I had never felt before.

My symptoms went away. Yes. Within a week or two. Yes.



There was no more "coping". There wasn't anything to cope about.



My symptoms sometimes come back with triggers and also if I don't continue to care for my body (it's not a one shot deal).

But I found out that (for me, can't say for all mental illness) my symptoms are based on cellular toxins and cellular starvation. The shake was also very high in magnesium, so I learned how critical that element was. I am a different person with B vitamins and magnesium. My thoughts, emotions, choices, ability to accomplish, etc are different when I am fed. And when my body gets a chance to clear the poisons of just living out of its system. I also learned that I feel 95 percent better (not a real statistic, lol) when I avoid sugar and wheat (gluten).

I was surprised.

I knew being healthy was good, but I didn't know that the state of my body also determined the kind of thoughts, emotions, and behavior that was produced. I thought that was more based on my hard life I had. But I found out, that wasn't as big a factor as I thought. (Although my life taught me how to ignore and abuse my body. So it's all connected.).

Once you recover your body, then you can see what is "left" that still needs to be healed. For example, I have also been having a journey to self-love over the last couple of years that was very needed and that I had been avoiding up to that point. I am also currently working on creating and receiving more abundance and money in my life.

So having these dramatic experiences with vitamins and minerals and herbs led me think a lot more and develop a lot more, especially when I decided last year that I wanted to share. I really thought through what it was I had learned and how I could present that in a way that everyone could use. Thus How To Move the Universe was born, where we go through body recovery principles for the purpose of experiencing immediate relief, long term healing, and life creation.

So that's my story. I hope it helps you with your story.