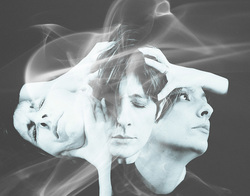 Absolutely no control over your emotions.
Full control over your emotions.

And the spectrum in between.

We are each 100 percent responsible for our emotions.

This does not mean that you can wake up one morning and in one instant have full power to handle your emotions if you've never done it before. You may also have some serious life challenges regarding your emotional proficiency.

Emotional ability takes awareness; willingness; courage; knowledge; self-love; skill; a lot of practice; and an ultimate sense of humor about the foibles (and gravity) of life and of being human.

Emotional ability requires understanding and ability regarding body (energy), regarding paradigm and beliefs, regarding thoughts, and regarding response to stimulus (triggers from other people, things, and circumstances). (Our triggers are our work.)

Emotional ability is the ability to recognize, name, induce, allow, enlighten, and express emotion healthily.

Emotional ability is to enjoy emotion personally as the flavor of life (rather than the horror); and to have emotions facilitate communication and intimacy between beings (and not rather to be a barrier to such).



Over the next several weeks,
I will elaborate more deeply about each of the emotional responsibility elements I have now introduced.
For today, I invite you to accept and believe that you are 100 percent responsible for your emotions. You may not be 100 percent strong right now (that's what I'll teach you more about). But you are 100 percent responsible because you don't want to give your power away for your own freedom and quality of life. So make this decision today.

I am 100 percent responsible for my emotions and my emotional state.