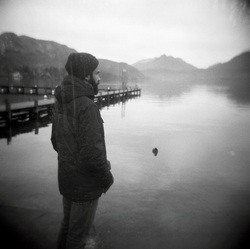 As I went along in my journey of emotional healing, my goal was to feel positive and not feel negative.
Sounds right, doesn't it?

Whenever I felt less than cheerful, I took that as a failure. I'd done it wrong again. When would I ever be perfect?

Thankfully I learned a little more.

I learned that even greater healing means the acknowledgment and acceptance of all my emotions. As I got better at being there for myself, I created a safe place for the feeling and expression of whatever came up--dark or light.

I learned a little more even. I stopped taking and calling the uncomfortable emotions as failure or even "negative". Rather I began to see them as a positive opportunity--as teachers. My painful emotions were there to communicate something to me and give me a chance to make a choice and receive a gift.

I got inspired to write this topic yesterday when I was listening to Alexia Vernon tell her story on an interview. She shared regarding her challenges including emotions she began to experience in the course of her healing. A lot of anger came up for her. In her past, anger wouldn't have been allowed. It would have been cast as a mistake and an inferior character trait.

But Alexia made a choice about how she would engage with her anger. She allowed herself to feel it fully and then she asked, "Who do I need to forgive?" She began to understand her anger as a signal that was giving her a chance to forgive--in other words, a chance to free herself from the past. She began to love her anger and realize her body loved her by sending the anger. It was highlighting her progression as a human being, not keeping her from it.

For me, one thing I have been learning to reframe is lethargy. I have had a lot of healing and made great strides in my energy and my ability to accomplish things throughout my day. That's what I'd rather be doing--a lot of stuff. And it's even what I'm teaching here at How To Move the Universe--how to recover your body energy and your choices in order to consciously create.

But, still, sometimes my body says, "Hmmm, I don't think so." And often this happens in a rhythm related to my moon cycle. So every time that comes around, I get resentful of the energy change. In the past, I would be framing this as something to overcome. "I need to figure out how to maintain high energy during this portion of my moon cycle."

Hmmmmm.

Well, I am starting to see the lower (physical) energy as more of a gift. Instead of being frustrated that I only get a few things done, I am starting to value that pace. It's a gift to be able to do only a few things, to go slower, to realize what the priorities are and let the rest go. I am starting to use the time for self-care: an extra nap, a longer meditation, spending a little more time talking with my kids. My work will still be there when the high energy returns (per the moon cycle), which it always does.

Meanwhile I am willing to be taught by what I am experiencing during that time, instead of pushing it away or feeling guilty or any "negative" story I could tell about it.

So if you can, release the paradigm of "positive/negative" especially when it comes to your emotional life. Rather, accept and even love what comes and find a healthy expression for it. See the teaching and the gift it brings.

Be at peace.