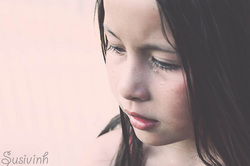 I have told
my story
before, but I want to share again.
When I look back on my life, in my own mind I have it broken up into distinct eras.

It began with what I call the Golden Childhood. I was happy, loved, expressive, imaginative. I got the idea that my parents thought I was amazing, which is how every child ought to feel. Yes, there were some tough bits. I did experience sexual molestation (not in my family, and not ongoing). I also had a few intense negative emotional experiences that founded some of my childhood decisions about what life was like and how I was going to handle it (for example, I had a deep experience of betrayal when I was 2 years old). But on the whole, I was secure, loved, played with, acknowledged, free, and there was room for me to be who I was.

The point at which my parents divorced (age 8) and my mother remarried (age 9) marks the beginning of the next era which I haven't really given a name. Maybe it should be called The House. Because the shack we lived in was a major player in my subsequent psychology to this day (I still can't seem to root it out completely; even though it has since been torn down and no longer even exists in the outer world!).

I won't say that I had a horrific, abusive childhood. I don't think I did. There was a lot of love in our home. But I do think that my sensitive soul was unable to handle anything about my new life and there were several issues in the family that while perhaps not abusive, were extremely less-than-healthy.

I mourned the separation from my daddy and in the following years, witnessing his descent into mental illness including homelessness and other dysfunctions (which I did not understand and did not know yet what was in store for me in my own life). My step-father's approach to childrearing was extremely different than my father's especially when it comes to the mistakes that children make. My father did not believe in punishment, but believed that a child could be talked to and come to understand. My step-father was angry and trigger-happy with punishment. (I am bringing this out, but it was not his only quality, he had positive ones as well.)

I come from a religious and conservative family, so traditional gender roles were important. My step-father ruled. My mother was on her own journey of learning to stand up for herself, which she eventually figured out. But as the oldest child, I didn't see much of her healing, I saw a lot of her pain as she was betrayed by the paradigm for women that she had been taught in her life and culture.

In any case, what with one thing and another, I very quickly shut down. I made this decision deliberately, fully consciously, and irrevocably. "I will not be here." I locked my authentic self up deep inside where she would never see the light of day so that she could survive. I imagined letting her out as soon as I could get old enough to leave The House (although that did not happen and she is still in prison even as I write this. We let her out on parole occasionally, but we haven't found the safe world yet; I am gradually healing step by step.). I (consciously) created a person to inhabit my body that would live in That House for the next 10 years or so, which as a child is forever. I gave absolutely no consent to experience those years, so for me they were an assault and out of my control.

Another thing that happened was that we lived in Idaho without heat during the winters. While it was not meant as a punishment, rather simply a fact of life, it nevertheless was physically traumatic to the point that it became psychologically traumatic as well. I learned how to leave my body and did that readily. When you are freezing, you leave. Why stay? By the time I left home, I was only nominally attached to my body. Even now, inhabiting my body is part of my healing and a conscious choice I make every day.

During this time of my life, there were good memories as well. My dad (step-father) had a big garden. My mother was an amazing cook and when the fruit was on the trees, she baked so many pies. I was musically talented and my whole family always supported me at concerts and such. I have good memories of doing things with the church youth group. I read books every single second of every day when I didn't have something else to do. I walked down the halls of school while reading, and if I didn't get told to put it away, I read books during family meals. I lived in my imagination with my dragons and my sorcery.

When I finally left my childhood home at the age of 18, I was in a certain condition because of my experiences and the decisions I had made regarding those experiences. First of all, I was furious at all three of my parents. This was a deep fury, because I was not the kind of person to be disrespectful to my parents' faces. I had absolutely no forgiveness or understanding to offer for their struggles and what I saw as failures (I didn't understand struggle at all yet).

Second of all, I made a huge judgment about my parents, my life, and the world. I didn't understand how people made the choices that they did, that ended up hurting themselves and others. I had been taught religiously, so I was at the time on a quest for heaven. I felt that if you believed in love, honesty, hard work, your dreams, etc., well then just wake up and do that. It wasn't that hard. And in the end, because you did good, God would let you in to your mansion on high. I felt that repentance was an anomaly that only a few really bad people had to do and I wanted to make sure that didn't ever apply to me. I felt that the reason my life was excruciating was my parents' fault and I didn't have any choice in the matter, and that as soon as I moved out, I would do it right. I would fix everything. Everything for myself, everything for my parents, and create a magical life for my children, and after that in my spare time, I would save the world. Nobody in the entire world would suffer any more for another second, because Jennifer had arrived on the scene!

I will write more of this story in Part 2, next time, about the eras of my adult life, including mental health challenges.