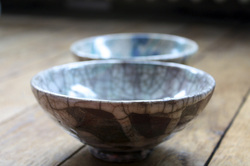 "Break a vase, and the love that reassembles the fragments is stronger than that love which took its symmetry for granted when it was whole.
"
Derek Walcott
If you've never heard of Kintsugi, I now introduce that to you.
From the time I first learned about it until now, Kintsugi has been a beloved metaphor that has helped me pass through a lot of challenges with a little more hope. Kintsugi is the Japanese tradition of repairing pottery vessels with gold, rather than trashing what was broken. The gold-repaired pottery is more valuable than the original piece. And as well, quoting Wikipedia, "As a philosophy it treats breakage and repair as part of the history of an object, rather than something to disguise."
I don't know what Mr. Walcott had in mind with his words, but when I read them I understand that great love to be the love we have the opportunity to give ourselves; the love and precious value we place on our life that surrounds us. This love is a conscious choice. It doesn't arise by accident. It's a tough, rich, vulnerable love. It's a laughing love and a crying love.



Love yourself back together.